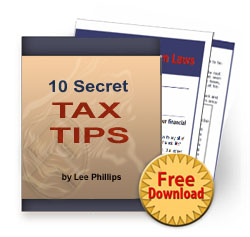 The best tax tips are the ones that lower adjusted gross income and put the tax payer in one of the lower tax brackets
Siesta Key, FL (PRWEB) August 05, 2012
Adjusted gross income is a hot topic right now because of the soon to be tax increases on tax payers.
"Most tax tips that are published around tax time are so off the wall that very few people can use them. The tips always deal with standard deductions, which do not affect a person's adjusted gross income," said Lee R. Phillips, attorney and CEO of LegaLees Corporation.
He continues, "adjusted gross income is the critical number on a person's tax return, because it determines the person's income tax bracket, exemptions, phase outs, alternative minimum tax, and lots of other aspects of the person's tax liabilities."
Adjusted gross income is the number on the last line on the first page of IRS form 1040, which most people use to file their personal tax return. All of the additions and deductions above the adjusted gross income line affect the adjusted gross income number.
All of the "standard deductions" are below the adjusted gross income line, and they don't have any affect on the taxpayer's adjusted gross income. "Standard deductions include personal residence interest, charitable contributions, medical expenses, and other things the average person thinks about when they think about lowering their taxes," explained Phillips.
"The best tax tips are the ones that lower adjusted gross income and put the tax payer in one of the lower tax brackets," said Jonathan Cavender, an attorney who works with small businesses.
"A tax payer needs to implement the tax tips all during the year. Planning at the end of the year isn't going to help lower adjusted gross income much," stated Phillips.
"Other than making a contribution to a standard IRA, there isn't much the average taxpayer can do at the end of the year to lower their adjusted gross income," said Cavender.
LegaLees Corporation has recently released its ten tax tips. Phillips says that they are tips that can be implemented to lower a tax payer's adjusted gross income and hopefully drop them into one of the lower income tax brackets.
Visit Legalees to download these 10 tax tips.