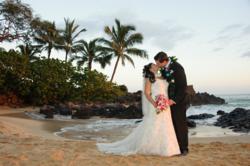 You made my daughter's wedding very special for her and all of us and I'm looking forward to coming back!
Maui, Oahu, Kauai and the Big Island of Hawaii (PRWEB) August 07, 2012
Wedding planners Hawaiian Style Weddings and Maui'd Forever Weddings offer couples and families full service wedding and travel arrangements. "Now, we can offer a lot more to our clients," reported Mark Steffan, owner of Maui'd Forever. "The NCL cruises have been updated and made more relaxed and fun."
The Pride of America sails out of Honolulu every Saturday and returns the following Saturday with overnight stops in both Maui and Kauai. Jana Rothenberg, Hawaiian Style Weddings Consultant, produced an exotic wedding on Maui for a cruising wedding family. "Our client was overnighting in Maui so we arranged their entire onshore day based on the ship's arrival. We started with an early appointment at the marriage license agent. We arranged for a Honeymoon Suite that made the hair and make up appointments convenient. Everything fell into place for their sunset wedding at Makena Cove Beach. The family was delighted with the vacation/honeymoon cruise and the full day's wedding and dinner celebration on shore. Yuri Rodriguez, mother of the bride said, "You made my daughter's wedding very special for her and all of us and I'm looking forward to coming back!"
In August, Maui'd Forever got a call from a couple on board the Pride of America. Arriving on Kauai in two days, they wanted to have a beach Vow Renewal ceremony. The arrangements were made and Rev Harold Kilborn met the couple and their translator on Kalapaki Bay Beach where they exchanged their marriage re-commitments. "The couple was Spanish speaking so we provided their Vow Exchange translated into Spanish as well," Steffan said.
Hawaiian Style Weddings and Maui'd Forever are pleased to offer the updated cruise plans. The new "Freestyle Cruising ®" allows honeymooners and vacationers more year-round cruising fun, better dining and excellent entertainment while they cruise throughout Hawaii. The NCL "Freestyle Cruise" ® means no set dining times, no assigned tables and more relaxed dress codes. Entertainment options include fitness centers, spas, kid-fun activities and Wii on two-story screens. The accommodations have been updated to include solo studio rooms and two-bedroom family suites with balconies.
The NCL website boasts that the Pride of America was voted the "Best Cruise for Honeymooners" in 2010 by Cruise Critic magazine. In 2011, Bride's magazine named Hawaii and the number one destination for honeymoons. Rothenberg summarized, "The Pride of America sails under the United States flag so passengers do not have to board with a passport. They spend their entire 7-day cruise in Hawaiian waters. Most weddings for cruise ship passengers are on Maui or on Kauai. For honeymoon cruises, a typical plan might include a week on the island of choice for the whole family. Then, on Saturday, the newly weds board the ship for their Hawaiian honeymoon cruise. With over 100 hours in port, the Pride of America NCL cruise is an excellent option for newly weds to visit the main Hawaiian Islands."