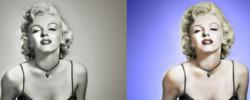 I care about what she's done in showing the way for womento embrace what I call their Inner Marilyn.
New York, NY (PRWEB) August 05, 2012
Marilyn Monroe put the "I" in icon. Maybe she died so young 50 years ago to live in the hearts, minds, and imagination of others forever. On what would have been her 86th birthday, the memories of her are fully alive as are the mysteries. Was she a victim of Hollywood or bigger than it? Was there a Marilyn Monroe death conspiracy and what happened to the FBI files on her? Did she have an affair with President John F. Kennedy and was she a lesbian?
There are many burning questions about Marilyn Monroe being speculated on today. But leading beauty experts say, "We don't care about her past!" They'd rather pay tribute to Marilyn Monroe today for her priceless gifts to women's beauty in the present. "I don't care what she did or with whom," says Sally Hayes, permanent makeup expert with offices in New York, Los Angeles, Las Vegas, and Scottsdale. "I care about what she's done in showing the way for women to embrace what I call their 'Inner Marilyn.' I care about her being remembered as the greatest groundbreaker ever for makeup and women's sex appeal.'"
New York Celebrity Makeup Artist, Jill Harth also has Monroe as her style idol. "Marilyn Monroe was fearless," boasts Harth. "You could always see the girl inside the woman with her. She made everyone want her. She knew it was an asset and she knew how to use it. Every woman has an inner sexiness, but too many today bury it or don't believe in it."
These experts point out how the legendary actress transformed Norma Jeane Mortenson into Marilyn Monroe, a basic brunette into a platinum blonde with a made for Hollywood breathy voice and wiggly walk. Yes, she had natural beauty but still had to work hard to create her image every single day.
"She didn't have today's lasers which could have helped greatly to minimize her hairy arms and peachfuzz on her face," says Las Vegas Celebrity Cosmetic Surgeon, Julio L. Garcia, M.D. "Being a full-figured girl, she didn't have today's body contouring options either. And she didn't have the power of permanent makeup to save her time and effort, enhance her appearance, and give her added confidence being photographed everywhere she went."
Adds Harth, "I have to remind clients, Marilyn had a brilliant and dedicated personal makeup artist pull her out of bed every morning and work for hours at creating her image. She was gorgeous but becoming the Marilyn Monroe persona every day was another acting job for her."
This reality is why Sally Hayes did a 50th Anniversary Series on Monroe as a tribute to a legend and a comfort to women everywhere. "I hoped to show what Marilyn Monroe could have looked like with permanent makeup to show women how they can bring out their own natural beauty easily without a full-time effort or personal makeup artist."
"It was a very cool idea Sally did," says Harth. "It is definitely something to talk about. My hope is it will help women recognize they can do what Marilyn did if they embrace their own inner glow and know makeup simply turns you into someone even more beautiful on the outside."
"Just be yourself and customize a beauty plan for your own natural features," adds Hayes. "What's usually better for most women regardless of age is to avoid forcing efforts to look like Marilyn Monroe, and be just like her by owning the uniqueness of who you are and enhancing it."
Dr. Garcia agrees. "I cringe when people come in to my practice with pictures of these new actresses and say to me, I want you to give me this look. Trends and fads change. I think Marilyn Monroe could walk onto any stage right now if she was 36 and appear stunning. What she gave to women is the gift of showing them the timeless look of pure, classic beauty."
About Sally Hayes Permanent Makeup
Sally Hayes is widely recognized as the nation's top permanent makeup artist. She has done tens of thousands of successful cosmetic tattooing procedures of permanent eyeliner, eyebrow tattoos, permanent lip makeup and cosmetic camouflage. She specializes in undetectable permanent makeup which is natural-looking in enhancing the true beauty and features of everyday women, business professionals, and celebrities.
To see the complete Modernizing Marilyn Monroe Series, visit http://www.permanentmakeup.com.
Contact Information:
Sally Hayes Permanent Makeup
(inside the offices of Tribeca Plastic Surgery)
44 Hudson Street
New York, NY 10013
(718) 644-2366