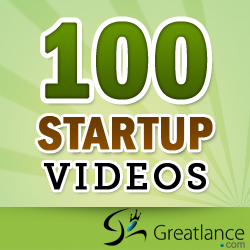 It's really surprising that lots of new startups are in high demand of demo/explainer videos for their new products which motivated this deal like hot cake.
(PRWEB) August 08, 2012
"Internet brings in both benefits and disadvantages to a startup company. The manner it is used usually dictates if the startup will make it or not. Every startup has very short span of time to expose their new ideas to the world; many of them fail due to unclear communication. A single explainer video can fulfill this big gap," says Greatlance founder Mr. Raghav.
Statistics reveal that every 4 out of 5 users on the website prefer to watch videos than reading a blog article or presentation or any other form of information. 80% of these users watch the complete video and act accordingly.
As a result, demo videos help to increase the average time spent on sites from 48 seconds to 5 minutes 22 seconds, in turn increasing startups' revenue by 10 to15%.
Another interesting study shows that after 72 hours of visiting a website, people remember only 10% of the text, 65% of the images and visuals, and a staggering 90% of the video. That's why even Facebook and Google come with an excellent animated video to explain their new projects.
How the deal reached 100 in a week?
Reason behind the reach is very simple; the deal is well timed and targeted on specific users which will be of maximum benefits. With more than 75% of cost cut on script writing, voice over and animated production, still it maintains the high quality compared to any big studios who usually charge in 4 digits.
Reason 1: Direct Marketing to startups.
Reason 2: Word of Mouth: 27 out of 100 referred by existing users.
Reason 3: No Facebook or Google. LinkedIn served better in lead conversion than other social brands.
Reason 4: Promoted in startup networks like Mashable startups, Startup videos.
Reason 5: High Quality Video with ultra low cost of $250.
With all this above reasons Startups now made creating a video as part of their startup works. They believe that videos help to engage their clients, entertain their clients and finally educate their clients.
"Greatlance Deal" is the brainchild of freelance website Greatlance.com, which works in the same way as online deal sites, but instead of vacation packages or beauty products, it discounts on the services offered by freelancers and SME's. This video deal is backed by Bode animation a reputed startup video makers.
http://www.greatlance.com/deals/high-quality-animated-video-for-your-new-startups