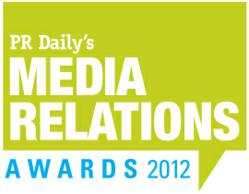 Chicago, IL (PRWEB) August 06, 2012
Ragan Communications' PR Daily today called for entries in its 2012 Media Relations Awards, offering industry pros the chance to gain bragging rights, prove their worth to clients and execs, and bolster their résumés.
PR Daily is the leading source of industry news, and its awards cover the gamut of work that is done to boost brands, message the world, and defend reputations. Categories include best branding or positioning, best crisis communications, and even best event or stunt.
"PR has undergone a revolution in the last decade, and this year's categories reflect that transformation," says PR Daily publisher Mark Ragan, "This is a way to demonstrate what you've done to master the changing landscape and deliver your message amid all the noise."
The competition is open to private companies, government communicators, and non-governmental organizations. Agencies and vendors may enter on behalf of clients.
To be eligible, work must be done between January 1, 2011 and October 19 of this year. Work may be submitted individually or on behalf of a whole PR team.
Each category winner will receive a free registration to Ragan's major conferences in 2013. The Grand Prize winner gets five registrations.
Click here to find out more about PR Daily's 2012 Media Relations Awards and to download the brochure and entry form.