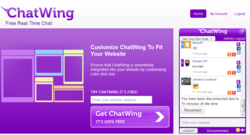 Los Angeles, CA (PRWEB) August 05, 2012
Chatwing has recently launched a global chat box that can improve the visibility of TV streaming websites. The chat app is loaded with potential features, such as social media integration, conversation control, easy installation process, and direct link URL. Now, web surfers of streaming websites can communicate with each other easily while getting updated regarding the events and shows they like to watch.
Web surfers are the primary targets of the Chatwing development team. These web surfers comprise a large percentage of the Internet, and they tend to visit thousands of websites per day. Chatwing's free chat box can be used by these web surfers to help them find new friends in websites, blogs, and forums. This is crucial for TV streaming websites, especially those who are covering special events like the Olympics. Fans of famous series can also use the Chatwing tool to share their opinions and suggestions.
Users of the free chatbox can also benefit a lot from Chatwing's social media feature. With this option, users will be able to log in with their social media accounts. Based on the research done by the Chatwing team, Facebook social hunters have recently used the chatbox to find new friends, generate more Facebook likes, and find more members for groups. Chatwing's direct link URL option can also be used by people who want personalized chat moments with their friends or acquaintances. This is useful for people who visit event streaming websites and want to create a form of synergy about an event or TV series.
To install the Chatwing chat application, a user must register his blog or website's domain name. Next, he can now proceed to the customization phase. In this way, he will be able to modify the size, color, and title of the free shoutbox. Bloggers and website owners have remarked that the average installation of the Chatwing app takes only twenty seconds or less.
Chatwing's pool of developers believes that many people are really interested in online streaming. This global interest raises the bar for website chat, making Chatwing one of the most needed applications of today. Currently, the Chatwing team maintains a blog and Facebook page that tackles different timely topics.
About Chatwing.com
Chatwing specializes in the new field of website chat. Over years, the Chatwing team has introduced live chat widget for hundreds and thousands of blogs. The Chatwing application bridges people from many parts of the world, creating global synergy through the Internet. The shout box can be installed in just seconds, and it can be used for varying purposes such as leisure and Internet marketing. It also allows a user to customize the size, color, and name of the widget. Chatwing is 100% free for everyone.