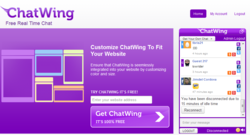 San Diego, CA (PRWEB) August 06, 2012
Game blogging is now a growing trend recognized across the Internet, based on the numbers of websites being created to uncover many game secrets and hints. The Chatwing development team—a company specializing in chat applications—has announced the launch of its website chat box in the Weebly community. Chatwing's chat tool can help uplift the niche of game blogging in Weebly, and can also provide streams of communication for thousands of bloggers.
Chatwing's free chat box allows users to log in with their social networking accounts. In this way, many people will be able to send out invitations to each other. The Chatwing tool can also provide a simple form of communication between the game blogger and visitors. Based on the research of the Chatwing team, game bloggers tend to discuss hot tips, walkthroughs, and other secret areas that can be discovered by avid players. Cheat discussions are also as common as blog comments and RSS feeds. Visitors can also use the free shout box to share links to their own blogs and websites.
Weebly's gaming niche has experienced remarkable growth for the past year, and Chatwing is utilizing this opportunity to provide better communication leverage for many users. The Chatwing chatbox has also been used as a visibility booster in other prominent blogging sites such as Livejournal, Tumblr, Windows Live Spaces, and Webnode. In the latest version of the Chatwing tool, the developers rebuffed the installation process. Now, the average installation time of a Chatwing chat app ranges from ten to twenty seconds—depending on how meticulous the user is.
In the following months, the Chatwing team is planning to release the free chatbox in other prominent online sectors such as finance, sports, current events, forums, and many more. This will highly emphasize the importance of the Chatwing tool, and also can mirror the dedication of Chatwing's developers. Before undertaking such expansion, Chatwing's developers are also looking forward in reaching out to the different niches in Weebly community.
About Chatwing.com
Chatwing.com specializes in the new field of website chat. Over years, the Chatwing team has introduced live chat widget for hundreds and thousands of blogs. The Chatwing application bridges people from many parts of the world, creating global synergy through the Internet. The shout box can be installed in just seconds, and it can be used for varying purposes such as leisure and Internet marketing. It also allows a user to customize the size, color, and name of the widget. Chatwing is 100% free for everyone.