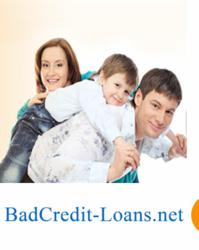 You don't need a good credit score to borrow money from our lenders – in fact they are used to dealing with consumers whose scores are poor to bad.
(PRWEB) August 08, 2012
Borrowers today with bad credit have very limited options when it comes to finding credit or loans. Traditional "depository institutions" – banks and credit unions for example, face almost draconian regulations when it comes to handing out loans and credit products. As a result, greater numbers of Americans, hardworking Americans with jobs and a steady income are finding it harder than ever to secure the cash they need for a wide variety of expenses.
This August, many people with bad credit are turning to online lenders to see if they can find the financing they need, without the inconvenience and tardiness of bricks-and-mortar lending.
A host of new online lending "directories" serve as a gateway, a hub to a host of lending partners, across the country, who are eager and willing to make loans available to consumers without a credit check. They do this by offering unsecured loans, which only require a signature. Applicants don't have to put the equity in their home or automobile against the loan. They must be U.S. citizens, over the age of 18 and with regular employment and a pay check that is deposited directly into their bank account.
A spokesperson for BadCredit-Loans.Net announced today "Summer is here and there's still a host of things to do and see, trips to take and family to visit. At BadCredit-Loans.Net we specialize in making financing available for all of us. You don't need a good credit score to borrow money from our lenders – in fact they are used to dealing with consumers whose scores are poor to bad. No rejections from the credit card agencies or lengthy personal phone calls with their representatives. Our services are all available online and they are available 24 hours a day, seven days a week.Simply visit the site and complete a short and easy to understand form, and you could be contacted by a loan representative within a few short minutes."
Visitors to the site are encouraged to have their social security number to hand along with their employment and banking details. As long as they are a United States citizen and over the age of 18 they are eligible to apply through the site for a loan. Applicants should be in steady employment and receive their paychecks directly into their bank accounts.
The spokesperson for the service continued "It's frustrating to say the least to be working hard and yet still not having the extras needed for summer fun. Our lenders can work with you to advance you that money and explain to you clearly and in simple terms what your obligations are regarding the loan. Contact us today via BadCredit-Loans.net and see if we can find an auto, student or personal loan that is right for you. "
Applicants are encouraged to always make timely repayments on their loans to avoid fees and charges. Personal loans for people with bad credit are considered short term lending solutions and where possible people should do their best to repay them in full and on time.
Click here to get a loan: http://www.badcredit-loans.net/