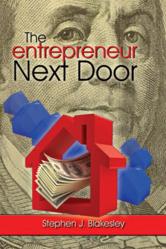 "I am recommending this book to my global community of over 30,000 entrepreneurs as a must read..." - Viki Winterton-Founder of Expert Insights Publishing
Houston, TX (PRWEB) August 07, 2012
GMS Talent L P, an Executive Recruiting and Performance Management firm and Entrepreneurs R Us a long-running and popular radio show for entrepreneurs are teaming up to grow jobs in America and around the world by transferring knowledge and experiences of a highly successful serial entrepreneur - Stephen J. Blakesley.
Blakesley has directly coached and mentored over 100 business start-ups to grow their businesses successfully. Blakesley has been transferring knowledge to aid others in starting their own businesses for over 30 years. He has recently authored and independently published the book "The Entrepreneur Next Door" as continuing effort to improve the chances of business success for entrepreneurs around the world.
Now, with the aid of GMS Talent, LP, he is adding one more "building block" to the foundation contributing to startup success- The Essential Entrepreneur Mentor/Coach program. This program is designed infuse and solidify knowledge, systems, and visions that will increase the business skills and enhance the chances for business success.