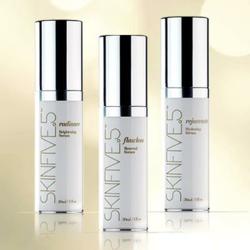 Its nature and science working harmoniously to take skin care to unprecedented heights.
Australia (PRWEB) August 07, 2012
Skinfive.5 Luxury Cosmetics has just announced it is launching their skin care line to markets in the United States and the rest of North America. Skinfive.5 offers women a line of cosmetic skin care products designed to moisturize, replenish, revitalize and protect skin of any type and combination.
In a world where many cosmetic and skin care companies turn to inferior ingredients to keep costs down, Skinfive.5 uses only the best ingredients backed by scientific research. Skinfive.5's products work with the body to make skin look its best instead of using harmful chemicals and toxins to cover skin up. The company's skin treatment collection is designed to meet the needs of women no matter what type of skin they have; dry, oily or combination – it doesn't matter. Their products are the fruition of intensive research and testing combined with a passion for beauty with the sole purpose of elevating the natural health of women's skin.
Let's face it; women's skin takes a beating in today's world filled with harmful chemicals and toxins in food and the environment. Combine that with an inferior brand of overpriced skin care products and the results are often disastrous. The environment is tailor-made to make skin look unhealthy, aged and worn. Skinfive.5 skin care products offer a lasting and affordable solution for solving the problem of maintaining great looking and healthy skin.
The Skinfive.5 Promise
Skinfive.5 promises to offer their clients with a complete skin care line that is free from harsh ingredients, is easy to use and unlocks the skin's natural radiance and beauty. Its nature and science working harmoniously to take skin care to unprecedented heights.
Healthy skin isn't a given anymore – in fact, it's a luxury. The arrival of Skinfive.5's products into North American markets means healthy and radiant skin is now just a click of the mouse or phone call away for millions of women. Some of the company's flagship products include:
Rejuvenate Hydrating Serum – this product contains hyaluronate acid that is scientifically proven to bind with water molecules to keep skin elastic and resilient. Skinfive.5 scientists and engineers also infused the Rejuvenate with licorice that works to reduce redness and flakiness. Rejuvenate also restores the suppleness commonly seen in the skin of 18 year-olds. These two miracle skin care ingredients serve as a foundation designed to reinforce skin's natural beauty through repair and protection.
Flawless Renewal Serum - another of the company's flagship products now available in North America and worldwide is Flawless Renewal Serum. Flawless proves that youthful skin marked by firmness and a radiant glow isn't solely reserved for women in their teens and twenties. Flawless actually stimulates cell renewal and regeneration resulting in the restoration of skin back to its natural state. The secret is marine algae that work at the cellular level to rebuild skin from within by boosting collagen production.
To find out more about Skinfive 5 skin care products and to place an order, visit them on the web at http://www.Skinfive5.com