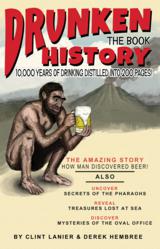 In some civilizations alcoholic beverages were so commonplace that making someone drink water was considered punishment
Las Cruces, NM (PRWEB) August 07, 2012
"10,000 years of drinking distilled into 200 pages."
That's what friends Clint Lanier and Derek Hembree say sums up their new book, Drunken History, available now from AO Media LLC.
"Drinking is nothing new," says Hembree, of Albuquerque, NM, "for at least 10,000 years we've been seeking new ways to make fermented and distilled beverages and even new ways of consuming them."
What's new, say the pair, are our attitudes towards drinking.
"In some civilizations alcoholic beverages were so common that making someone drink water was considered punishment," says Lanier, of Las Cruces, NM. "But somewhere along the line, drinking, or really even celebrating the subject, became almost taboo."
Through humorous and entertaining narratives and statistics, their book (which started as a blog of the same name) explores such subjects as the immense amount of beer and liquor society used to consume, the origin of many beloved drinks and cocktails, and even the Church's relationship to alcohol.
The Church's presence in the history of beer and whiskey is something that Lanier and Hembree say is usually surprising for many to learn.
"Most don't realize that they owe the beer they drink to monks who spent years perfecting recipes and brewing techniques," says Hembree.
"They brewed because beer was such a staple of life in the Middle Ages, replacing the frequently contaminated water and providing nutrition."
Though the 5 liters per day beer ration the monks got also had something to do with it admits Lanier.
The subjects they study are wide-ranging, starting with the earliest evidence and origins of alcoholic beverages—crude beer and wine in the Middle East—and then a survey of the Middle Ages and all of the contributions made during that brief period. They also examine the Renaissance, the founding of America, the Revolutionary War, and of course, American Prohibition.
Their approach, though, is less academic and more entertaining. They say it's "more conversational," and interjected with irony and surprise.
"This is definitely for a man-cave library," says Lanier, "it's a fun look at where we came from that comes to one immutable conclusion: our history really is a drunken one."
The book will be sold online at Amazon.com and from other booksellers across the country.
For more information about Drunken History or the publisher contact info(at)aomedia-llc(dot)com or call 1-888-396-3855.
For interview or author information please contact info(at)drunkenhistory(dot)com.