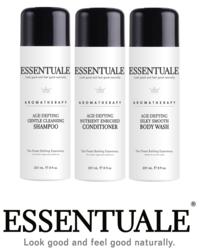 No one in 10 years has had anything less than a totally amazed reaction and the new formulas are even better. The amazed reaction is the greatest reward to us after so many years in development.
Laguna Niguel, CA (PRWEB) August 07, 2012
Essentuale's first formulas - Age-Defying Aromatherapy Gentle-Cleansing Shampoo, Nutrient-enriched Conditioner, and Silky-Smooth Body Wash were far beyond expectation - in the pilot run of 2002.
Tested on over 300 people with all hair and skin types, the formulas far exceeded all expectation.
It was evident the ESSENTUALE bathing system formulas were the 'world's finest' in every respect - and an experience before, during and after - as was founder Rob Cummings' dream.
ESSENTUALE spent the last 10 years selling products offline, yet primarily testing, formulating and re-formulating to perfect what already was perfect. Rob readily admits he is entirely obsessed with creating the world's finest shampoo, conditioner and body wash.
To Rob the "world's finest" had to be finest in the experience and results, and every nuance of the experience was equally as important as the results.
All along, the ESSENTUALE bathing system project was without any thought of what the formulas cost to make, and the timeframe was simply as long as it takes to figure it out and make it work - perfectly.
The 9056 bathing system was reborn and remade May 3, 2012 at the same GMP certified natural products vitamin factory as the prior world's finest products.
The ESSENTUALE formulas are so unique, so different, and such a dramatic change in the way shampoo products are formulated the ESSENTUALE formulas are kept as secret as the formula for Coca Cola, under lock and key, and only known to very few who need to know.
Much more is explained at ESSENTUALE when people click The World's Finest Bathing System from the home page at http://www.essentuale.com .
The ESSENTUALE 9056 system was reformulated to eliminate the extremely minimal percentage of parabens in the 2002 formulas, to enable perfected dispensing, and primarily to increase the luxurious foam and all natural fragrance. It worked!
The very first time people try ESSENTUALE they see instant results far beyond their expectations.
Aside from the spa-like experience in any bath or shower, the results for all hair and skin types are remarkable in every way.
Instantly, after very first use, incredibly youthful baby soft hair that is shinier and more radiant than ever, hair feels light and fluffy as if floating above the head, a fabulous feeling unlike any other, and more manageable than ever in any sort of weather. With the matching body wash skin and face feel absolutely soft and perfect.
The new product labels on the 8 oz/237 mL are designed to be easy to hold when wet and the dispensing caps are beautifully functional. The ESSENTUALE 9056 bottles add a designer look to any bath or shower and in black, white and a touch of silver compliment any color scheme.
The 8 oz/237 mL bottles provide approximately 40-60 days of daily use making the msrp of $38 an outstanding value - when also considering the savings of not needing after-products for styling.
ESSENTUALE wants everyone to have the opportunity to try the full system (shampoo, conditioner, body wash), the "Spa Set", and has re-launched with special introductory pricing.
ESSENTUALE also launched a new and very simple and fast to use online store accessible from all web devices including smartphones and tablets.
While ESSENTUALE products may be sold in select stores, the focus is on selling direct to consumers online. Once an order is placed the order goes direct to a distribution center. The 8 oz/237 mL size is safety sealed at the neck for protection and added purity from factory to distribution center direct to consumers.
In the ESSENTUALE online store, accessed when people click SHOP on the home page, the Spa Set, normally a retail value of $114, is for a limited time Introductory priced at just $84, a $30 savings. At $84 for all three, each is then $28/bottle, which we feel is an exceptional value when compared to others at any price.
When ESSENTUALE set out to create the world's finest shampoo, conditioner and body wash we stated no budget - a formulator's dream.
The goal was to make the world's finest and then determine what the cost needed to be.
The 9056 system Spa Set truly delivers the entire spa experience and Spa Set is what we wish people to try and enjoy first. We hope $30 off will provide the incentive.
ESSENTUALE also offers a 1 oz/30 mL set of system 9056 Shampoo, Conditioner and Body Wash called The World Traveler.
The World Traveler is retail priced at $18, comes in an attractive retail carton ideal for gift giving or a gift for yourself, and for a limited time is Introductory priced at just $16, with free shipping.
For the past 10 years the formulas never stopped working exactly the same as the first time, and every time we switched to another at any price we were drawn back to ESSENTUALE.
The 'system' seems to produce a specific 'charge' in the hair that appears to compliment the ionic charge of the body and seems to be why it produces such tremendous results.
The ESSENTUALE Bathing System, our flagship. It's incredible. Once you try it you'll know.
To purchase ESSENTUALE products visit the ESSENTUALE online store.
For more information please contact Rob Cummings at 949.249.2519 or click contact us at http://www.essentuale.com.
Photos at high resolution are available at:
http://www.essentuale.com/18th_Release07.01.2012.htm