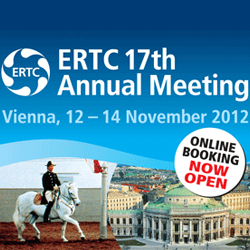 Vienna, Austria (PRWEB) August 07, 2012
The ERTC 17th Annual Meeting, which will take place in Vienna on November 12-14, features a programme of presentations carefully selected to cover the key topics in the downstream oil sector. To ensure the very highest standards of quality, presentations have been vetted by an advisory panel, drawn from some of the most experienced and respected names in the industry.
Some of the areas extensively covered include:
Expert analysis of global and European refining markets
The event's plenary sessions include a keynote address by Dr Hasan Qabazard, Director, Research Division, OPEC on the World refining outlook, while current trends in the European market will be covered in-depth by Alan Gelder, Head of Oils Research at Wood Mackenzie and Dr Alois Virag, Senior Vice-President, Refining & Petrochemicals, OMV. Ian Moore, Senior Consultant, Petroleum, Chemicals and Energy Practice, Jacobs Consultancy, will be discussing the carbon intensity of gasoline and diesel from crude, bitumen and synthetic crude.
Energy efficiency
57% of respondents to a GTF survey said energy efficiency was an area in which their company could most improve their refining operations with little capital expenditure, while of the 30% expecting to see an increase in their company or division's capex spend this year, 40% expected energy efficiency projects to be one of the main areas where spending will rise. To address this important issue, Sotecia and BP will jointly present a case study on the use of Visual Mesa as an energy management tool at the BP Lingen refinery, Germany. Dorf Ketal will explore how the use of preheat antifoulant in crude units can reduce energy consumption and carbon emissions. The technique can also be used to improve challenged crude processing, unlocking further economic benefits for refiners.
Advances in catalysis
This theme will be covered in a dedicated stream, featuring presentations from Criterion, Axens and a joint presentation by Preem and Haldor Topsoe. Some of the topics under discussion will include catalyst selection, the need for in-depth characterisation of challenging feeds to ensure effective bottom-of-the-barrel upgrading and recent improvements in catalyst selectivity.
A view from the end-user
The future demand for oil products will be determined to a large extent by the changing requirements from end-users, and with this in mind, the programme includes a dedicated session on end-user challenges, with presentations from Akihito Tanke, Vice-President, Toyota Motor Europe, Dr Richard Mills, Strategy Director, Boeing and Trevor Harrison, Acting Chief Executive, IBIA (International Bunker Industry Association), followed by a Q&A session that will provide delegates with deeper insight into the changing fuel requirements of the aviation, shipping and automotive sectors.
Advanced Process Control (APC)
This topic will be addressed with a focus session, which will feature presentations by Emerson and Haverly Systems, along with a case study jointly presented by KBC and Total on the use of APC in refinery energy systems. Areas to be discussed include early detection of asset failures, applications for refiners interested in developing their own APC solutions and process centred refinery linear programming modelling.
Biofuels
UOP will be presenting a case study on the implantation of second generation biofuels, and this will focus on the revamping of an existing hydrotreating unit into the UOP/ENI Ecofining™ process, which can convert natural oil and fats into high-quality 'drop in' green diesel. CRI will also be giving an update on its IH2 technology pilot plant, which can convert biomass to gasoline, jet fuel and diesel, and will feature discussion of the timeline for commercialisation.
Other presentations of note include a discussion of Foster Wheeler's zero gasoline production refinery concept, a look at mercury handling in refinery processes by Johnson Matthey and a presentation on the integration of XTL technology into refineries by Technip. Shell Global Solutions will be discussing the use of the bottom of the barrel as refinery fuel in the context of an expected decline in heavy fuel oil demand.
Day 2 of the conference programme will feature a panel discussion on 'EU strategy 2005: the challenge for refiners', between Dr Alois Virag, OMV, Roelof Heezen, VP Downstream R&D, Shell, Robert Mwasaru, Head of Planning & Optimisation, MOL and Isabelle Muller, Secretary general, Europia.
The ERTC 17th Annual Meeting will also provide the opportunity to visit OMV's Schwechat refinery, one of the largest and most modern inland refineries in Europe, with a total capacity of 450,000bpd. The conference programme has been carefully designed to deliver excellent networking opportunities, with more than 15 hours set aside for delegates to discuss technical challenges, share vital experience and talk about the latest innovations. Taking place in the sumptuous Hilton Vienna, attendees will also be able to enjoy the very best in hospitality, with a Gala Dinner promising to be a night to remember.
More details can be found at http://www.gtforum.com/ertc-annual-meeting
The ERTC 17th Annual Meeting is produced by Global Technology Forum, an Incisive Media brand.
About Global Technology Forum (GTF)
Established in 1996, GTF is world renowned as a leading provider of ERTC and ARTC conferences and training services to the international oil, gas and petrochemical industries. Earlier in 2012, GTF expanded its coverage of the downstream oil sector, to include Latin America, with its first LARTC Annual Meeting in Miami, Florida.
About Incisive Media
Incisive Media is one of the world's leading business-to-business (B2B) information providers, serving the financial and professional services markets globally. It brings product provider and purchaser business communities together using all the varied platforms available to a modern publishing business. From one small office for 13 staff in 1995, Incisive Media has grown into a global publishing business, with over 800 staff across three continents and our events portfolio sees us represented in over 40 countries every year.