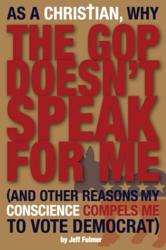 I hope my books cause some people to rethink their political beliefs in light of what the scriptures actually have to say about certain issues and maybe get a productive dialogue started.
Nashville, TN (PRWEB) August 07, 2012
"As a Christian, Why the GOP Doesn't Speak for Me," is the title of a recently released e-book by Jeff Fulmer, who is also the author of the Christian fiction, "Hometown Prophet." Fulmer is making a complimentary version of the e-book available to anyone who subscribes to the Hometown Prophet Newsletter. Simply by going to the Hometown Prophet Website and signing up for the newsletter with your email address, you will be sent a downloadable version of the e-book for free.
Comprised of articles from the Hometown Prophet Blog, "As a Christian, Why the GOP Doesn't Speak for Me," makes the case that Christianity is very different than the values espoused by the Republican Party. "I became frustrated with the way Christianity is twisted for political gain," Fulmer said, who is a self-described 'recovering Republican.' "Jesus didn't side with the rich and powerful. In fact, he commanded his followers to help 'the least of these.' If we truly want the United States to be a nation based on Christian principles; that's a pretty good place to start."
"As a Christian, Why the GOP Doesn't Speak for Me" grapples with a host of current political and religious issues from a more progressive point-of-view. The articles use scripture along with humor to deal with subjects such as the discrepancy of wealth in the county, how to love your neighbor during a political campaign, and what a Christian candidate would really look like. A few articles push back at those who seem to use their faith to further their personal agendas.
Fulmer's first novel, "Hometown Prophet," follows a young man who begins to have prophetic dreams. While the prophecies initially bring him acclaim in his hometown, it isn't until they start to challenge the biases in the community that he discovers the difficulties of being a messenger of God. Set in Nashville Tennessee, some of the "prophecies" are based on actual events that have taken place in the area, such as a coal ash spill, an arson fire at a mosque, and a flood.
"It's okay if people disagree with me," Fulmer said. "We all come from different backgrounds and have different approaches to our spirituality. I hope my books cause some people to rethink their political beliefs in light of what the scriptures actually have to say about certain issues and maybe get a productive dialogue started. Working together, Christians can change the political discourse and set an agenda that helps all of God's children."