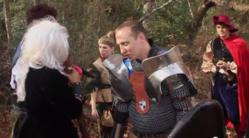 It is NEVER my mission here to ridicule.
New York, New York (PRWEB) August 06, 2012
Realm of LARP, an original series currently airing on The Nerdist Channel, a YouTube premium channel launched in early June amidst speculation from the nerd Community that the show would belittle participants in the hybrid role-playing game and sport. Live action role-playing is a passion for millions of participants from all over the world with lovers of the pastime chiming in from the U.S., Germany, New Zealand, and England to name only a few of the nations remarks are coming in from.
When the first teaser for The Realm of LARP was released, speculation began to pour in from the LARP community asking whether or not the show would ridicule the participants while some suggested that LARPing was a private function and shouldn't be shared through a web series regardless of how it was depicted. Chris Hardwick of Nerdist responded to skepticism in the YouTube comments saying, "[Realm of LARP] is a love letter to LARP. It is NEVER my mission here to ridicule. We celebrate nerd culture in the sincerest way possible, because you couldn't when I was growing up."
After release, perception of the series has shifted. Series creator Victor Varnado explains the fans have become volatile in a whole new way. "It seems the majority of the community has accepted the show as a fair depiction of LARPing, but now the loudest voices of criticism are people saying that the people on the show are not LARPing hard enough. It's almost like east coast / west coast LARPing."
New episodes of Realm of LARP premiere every Monday at youtube.com/nerdist. More information on Realm of LARP can be found at realmoflarp.com.
The Nerdist Channel is a YouTube original channel that launched April 2, 2012. The channel's nerd-centric content will span comic books, video games, movies, pop culture and more. Shows on the channel features well-known talent such as Harry Knowles, Neil Patrick Harris, Rob Zombie, Weird Al and Chris Hardwick himself. Nerdist Industries' partners in its premium YouTube channel include The Jim Henson Company, Broadway Video Entertainment and The Chernin Company.