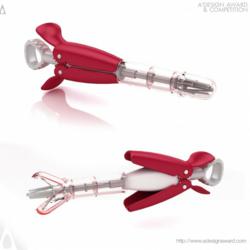 Como, Italy (PRWEB) August 06, 2012
A' Award and Competitions are happy to share that the work Self Smear Test Kit by Hakan Gürsu won the prestigious Golden A' Design Award in Scientific Instruments, Medical Devices and Research Equipment Design Category picked as the winner by the esteemed referees of the A' Design Awards & Competitions among numerous submissions.
About Self Smear Test Kit
Hakan Gürsu, the creator of the winning project Self Smear Test Kit says "Cervical cancer is the 5th most common cancer in women worldwide with approximately 471,000 new cases diagnosed each year. Approximately every 2 minutes a woman dies of cervical cancer. %80 of the cases occur in low-income or middle-income countries. Unfortunately, many women don't have access to routine tests such as Pap smears. Self Smear Test Kit allows personal user to perform smear test at home which enables early diagnosis, thus treatment. It is an economical and hygienic product that provides 6 caps to user, which is enough for a 3 year period of testing, once in a six months." Learn more about this design: http://www.adesignaward.com/design.php?ID=25349
The Golden A' Design Award
The Golden A' Design Award is a prestigious award given to top 3% percentile designs that has achieved an exemplary level of sublimity in design. The designs are judged by a panel of three different jury which is composed of Academic, Professional and Focus Group Members. The designs are evaluated with score normalization to remove any biases and are voted on aspects such as functionality, ergonomics, engineering, presentation, innovation, usability, fun details, technology, and any other specific points that could be considered, each of these points are further weighted for different jury groups.
About A' Design Award and Competitions
A'Design Award and Competitions, aims to highlight the excellent qualifications of best designs, design concepts and design oriented products. A' Design Award and Competitions are organized and awarded annually and internationally in multiple categories to reach a wide, design-oriented audience. Learn more: http://www.whatisadesignaward.com