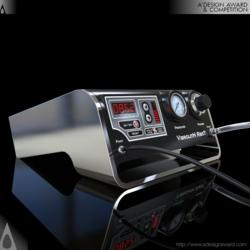 Como, Italy (PRWEB) August 06, 2012
A' Award and Competitions are happy to inform that the work Vibrolith Rbst by Burhan Özogur, Serhat Apak and Hakan Tezcan has been granted the noteable Golden A' Design Award at Scientific Instruments, Medical Devices and Research Equipment Design Competition marked as the winner by the esteemed jurors of the A' Design Awards & Competitions within numerous nominations.
About Vibrolith Rbst
Serhat Apak & Burhan Özugur, the lead designers of the awarded project Vibrolith Rbst demonstrates "ELMED VibrolithRBST is an electro-pneumatic lithotripter. It works according to the principle of collision of a bullet, accelerated by compressed air with a steel probe. VibrolithRBST has a "simple to use" nature. The operator can easily select the pulse mode as single or continuous, by simply pressing the touch-key panel. The total number of pulses applied can be monitored on a digital counter. Operation pressure can be adjusted easily and independently of the pressure supply, by turning the knob of the regulator on the control box." Learn more about the award winning design: http://www.adesignaward.com/design.php?ID=25662
Creative Team for Vibrolith Rbst
Vibrolith Rbst was realized by Burhan Özogur, Serhat Apak and Hakan Tezcan
The Golden A' Design Award
The Golden A' Design Award is a prestigious award given to top 3% percentile designs that has delivered an exemplary level of greatness in design. The designs are judged by a panel of three different jury which is composed of Academic, Professional and Focus Group Members. The designs are evaluated with score normalization to remove any biases and are voted on aspects such as functionality, ergonomics, engineering, presentation, innovation, usability, fun details, technology, and any other specific points that could be considered, each of these points are further weighted for different jury groups.
About A' Design Award and Competitions
A'Design Award and Competitions, aims to highlight the excellent qualifications of best designs, design concepts and design oriented products. A' Design Award and Competitions are organized and awarded annually and internationally in multiple categories to reach a wide, design-oriented audience. Learn more: http://www.whatisadesignaward.com