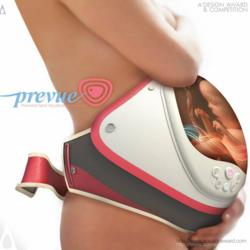 Como, Italy (PRWEB) August 06, 2012
A' Award and Competitions are proud to inform that the project Prevue by Melody Yi-Yun Shiue has been acknowledged with the famous Silver A' Design Award in Scientific Instruments, Medical Devices and Research Equipment Design Category elected as one of the winners by the transnational judging committee of the A' Design Awards & Competitions amidst thousands of works.
About Prevue
Melody Yi-Yun Shiue, the creator of the awarded design Prevue explains "PreVue is a solution to enhancing maternal-fetal bonding as a reassurance window. It is an e-textile based apparatus that uses 4D ultrasound. Latest stretchable display technology is also employed on the abdominal region, allowing other members of the family especially the father to connect with the foetus in its context. PreVue not only gives you the opportunity to interact and comprehend the physical growth of the baby, but also an early understanding of its personality as you see it yawning, rolling, smiling etc., bringing you closer till the day it finally rests into your arms." Learn more about this design: http://www.adesignaward.com/design.php?ID=23800
The Silver A' Design Award
The Silver A' Design Award is a prestigious award given to top 5% percentile designs that has carried out an exemplary level of sublimity in design. The designs are judged by a panel of three different jury which is composed of Academic, Professional and Focus Group Members. The designs are evaluated with score normalization to remove any biases and are voted on aspects such as functionality, ergonomics, engineering, presentation, innovation, usability, fun details, technology, and any other specific points that could be considered, each of these points are further weighted for different jury groups.
About A' Design Award and Competitions
A'Design Award and Competitions, aims to highlight the excellent qualifications of best designs, design concepts and design oriented products. A' Design Award and Competitions are organized and awarded annually and internationally in multiple categories to reach a wide, design-oriented audience. Learn more at: http://www.whatisadesignaward.com