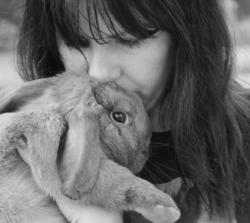 I would not have spent $30,000 on a college education if I had known my greatest teacher would have only cost me $7.50
Martinsburg, WV (PRWEB) August 07, 2012
When people ask Gretta Parker what the cartoon image of the rabbit tattooed on her left shoulder is for, she responds " that was my son Flopsy Parker." Rabbits are not usually thought of as children, but for one woman he was not only her son he was her greatest teacher. Flopsy gained popularity on Facebook for telling the world about how many rabbits are abandoned each year after Easter. A former shelter rabbit and his mother tried to start a movement to change the rights of rabbits who are sold as companion pets but governed by agricultural laws in the United States. Parker started Baskets for Bunnies, Inc., a 501c non- profit, and a program called Toys for Hops that distributes free toys for rabbits in shelters and rescues in the United States and Canada.
On December 28th, 2011 Flopsy died suddenly leaving his mother devastated. As she grieved she read letters from around the world about how Flopsy had inspired people to volunteer or help at their local rescues. She started to write; the product of grief was the self- published book titled The Easter Bunny That Grew Up, which landed on the Amazon ones to watch list its debut week thanks to the people who loved Flopsy on Facebook. Parker used the proceeds to start the Flopsy Parker Memorial Sanctuary that cares for elder, special needs, or bunnies with behavioral issues.
On November 13, 2012 a children's book titled The $7.50 Bunny That Changed the World will be released from BQB Publishing. It features real images from Flopsy's life and tells the full length story of how a little rabbit that was adopted for $7.50 went on to do amazing things in his short life. It is not only a tribute to his life but a tribute to the work his mother continues to do in his name. The proceeds from the books will go to improve the lives of the bunnies at the Flopsy Parker Memorial Sanctuary and to start a mobile spay and neuter clinic for rabbits in Flopsys name.
Parker is now working on a series of children's books called The Bad Newz Bunz based off the real life stories of bunnies that have come to live at the Sanctuary. The first will be a book entitled Stanley the Misunderstood about a rabbit with behavioral issues who is really an artist. Each book will teach children and parents true facts about rabbits and send the message that there are a lot of wonderful rabbits around the world waiting on forever homes in shelters and rescues. To learn more visit http://www.basketsforbunnies.org or http://www.grettaparker.com