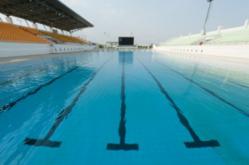 "The top swimmers like American Michael Phelps, Ryan Lochte and Chinese young gun Sun Yang have very smooth freestyle technique. We help athletes achieve the same technique with specific drills and workouts."
Melbourne, Victoria (PRWEB) August 07, 2012
Pools across Australia have encountered a surge in visitors as the Olympic Games performances inspire the public to hit the pool.
The London Olympic Games have delivered many surprises and upsets in the pool, with the exciting coverage this week raising the numbers of people attending swimming pools.
The spike in numbers continues to grow the sport and promotes healthier lifestyles.
Effortless Swimming's head coach Brenton Ford says there has been an increase in swimmers attending training and has noticed more patrons in public lanes.
"In the last two weeks we've seen the number of lap swimmers at local pools increase by up to 300%," he says. This week we've already had an increase of 40% with number of swimmers attending training sessions. It's no coincidence numbers are up and it's the first of the Olympics."
Brenton credits world record-breaking performances and the appearance of inspiring, well-known names to the increase in numbers.
"Seeing the elite swimmers competing and breaking world records seems to light the fire within for many people. It inspires them to get off the couch and back into training, which can be hard to do in the middle of Melbourne winter," he explains.
On Thursday, Michael Phelps delivered a history-making moment in the 200m individual medley when he became the first man to win the same individual swimming event at three straight games. It was Phelps' 20th career Olympic medal - and his 16th gold.
Phelps' faultless technique and dedication to training has seen him further cement his legacy by seizing the record for most medals in a career and now becoming the first man to complete a golden swimming treble.
Brenton says performances like these have also increased sales of Effortless Swimming's Mastering Freestyle program as swimmers and triathletes begin to understand the link between fast swimming and technique, shown by athletes like Phelps.
"The top swimmers like American Michael Phelps, Ryan Lochte and Chinese young gun Sun Yang have very smooth freestyle technique. We help athletes achieve the same technique with specific drills and workouts."
Effortless Swimming's Mastering Freestyle program provides swimmers with a wide range of up-to-date educational videos, workouts and training sessions.
"Not everyone can win a gold medal at the Olympics, but they sure can beat their mates with a few changes to their freestyle technique," Brenton says.
For more information on how to improve your swimming technique, visit Effortless Swimming at http://www.effortlessswimming.com