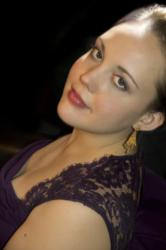 Scottsdale, Arizona (PRWEB) August 06, 2012
On Sunday, July 29, 2012, during the Trivedi Master Wellness® Monthly Enhancement Program (MEP™) Call, Dahryn Trivedi gave a ground breaking discourse regarding the health and transformational benefits of sex. For a topic that is often considered too controversial to speak about publicly, Dahryn provided factual insight backed by scientific scrutiny into to how healthy sex and frequent orgasms have been shown to boost immunity, improve heart health, increase healthy sperm count in men, promote high quality sleep, reduce stress, anxiety and fight various forms of disease.
While an orgasm tends to be a taboo topic, especially in the spiritual circuit, Dahryn provided practical knowledge on the benefits of frequently reaching a state of bliss. Feeling tense? The mind uses an orgasm to discharge the tensions out of the system and replace them with a relaxed body state and on a plus side incorporates pleasure. Conversely, a study made public in Psychosomatic Medication in 1976 showed clearly that failure to reach orgasm has a negative result on the heart health of ladies.
In women, sex increases the levels of estrogen, which protects against heart disease.
Healthy levels of estrogen help keep the heart system in shape, fight cholesterol and keep the skin supple. The oxytocin released during orgasm also promotes sleep, and high quality sleep has been linked with maintaining a healthy weight and blood pressure.
Sex twice or more per week reduces the risk of fatal heart attach by 50% in men compared with those who had sex less than once per month. Regular, healthy sex may also reduce the risk of prostate cancer in elderly adults. Feeling under the weather? Enjoying sex once or twice per week is linked with higher levels of an antibody called immunoglobulin A. Immunoglobulin A protects you from getting colds and other infections.
It seems as though the benefits of a healthy sex life extend far beyond than the human body, and may very well benefit the future of humankind. Several studies show that men who have frequent sex have higher volumes of semen, a higher sperm count and a higher percentage of healthy sperm compared to men who have infrequent sex. This is good news for women, as research shows the absorption of semen helps us combat depression, boosts our energy and even helps us have a smoother delivery, if we're pregnant.
Dahryn Trivedi's MEP™ Calls air on the last Monday of each month and are hosted by Mr. Mahendra Trivedi, founder The Trivedi Foundation® and Trivedi Master Wellness™, a breakthrough new model of human health and wellness which aims to better the lives of humankind through transformation, elevation of consciousness and unprecedented scientific research, known as Trivedi Science™.
Tens of thousands of people throughout the world have reported dramatic improvements in all areas of their lives from the Energy Transmissions of Mahendra Trivedi, also known as the Trivedi Effect®, including increased energy, better relationships, reduced stress levels, higher confidence and stronger libido, freedom from emotional trauma and depression as well as beautiful, glowing skin, just to name a few.
The Trivedi Effect® is a natural phenomenon that, when harnessed and transmitted by individuals, transforms living organisms and non-living materials so they can function at a higher level and serve a greater purpose. Mahendra Trivedi, Dahryn Trivedi and Master Gopal possess the ability to transmit the Trivedi Effect®. This phenomenon has been documented and validated in over 4000 studies at major research institutes and experienced by tens of thousands of people throughout the world.
Through the Trivedi Effect®, Dahryn Trivedi is on the cusp of revolutionizing the beauty industry through a new line of potent, Energy-Infused Skin Care. The highly anticipated Dahryn Silver Gel™ launched in June 2012 with sales reaching over $100,000 in the first three weeks. The premier product from the line of Dahryn Skincare™ products, Dahryn Silver Gel™ is uniquely formulated to promote self-healing properties.
During the interactive, live streaming event on July 29, 2012, Dahryn Trivedi shared pieces of her personal journey from lower middle class college student to wife of a powerful, international public figure, Mahendra Trivedi. She spoke tactfully about her personal growth to Spiritual Mastery under the guidance of Mr. Trivedi, and how sex has transformed her personally. Dahryn says, "The key to transformation is this energy. Anyone can transform if they dedicate themselves to this energy and do whatever they can do consume as much of this energy as they can."
Her discourse was well received by participants around the world; Una from France said "I have been involved with spiritual practices and people for the past 30 years but I have never heard such honesty spoken about sex before now." Elaine from Vancouver shared her appreciation for Dahryn's transparency and said "I really appreciate Dahryn's fresh truth. I really admire her. It makes me think more about truth. Keep it up."
During each call Dahryn delivers a discourse followed by Online Group Energy Transmission.
A Video Replay of Dahryn's July 29TH discourse may be seen here: http://bcove.me/rlqobhez