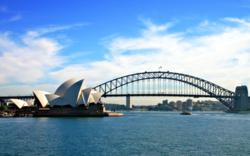 Sydney is a fantastic city, overflowing with a wealth of things to see, do and experience
Sydney, New South Wales (PRWEB) August 07, 2012
Travellers to Australia's most famous city can now explore it on a budget, thanks to the release of Discovery Car Hire's brand new Sydney Free Attractions Guide.
Packed to the brim with a comprehensive range of free and low cost activities and attractions, the all new guide is the perfect option for those travelling on a budget or within a strict timeframe.
Director of Discovery Car Hire, Scott Walton, described the guide as an innovative product that is ideal for car hire Sydney travellers.
"Sydney is a fantastic city, overflowing with a wealth of things to see, do and experience," he said.
"It attracts a range of both local and International tourists, many of whom are travelling on a tight budget and who wish to see and experience the city at a minimal cost."
"The Sydney Free Attractions Guide is the perfect tool for these travellers to enjoy what's on offer, without having to worry about costs and over-spending."
Highlighting over 20 great locations, the guide is designed to read and print easily, revealing useful facts, information and directions for each attraction it lists.
Usual suspects, including the iconic Harbour Bridge, Opera House, Bondi Beach and Darling Harbour, made the list, while some of the city's more unknown, yet appealing tourist attractions also make an appearance.
Art lovers, history buffs and keen shoppers can also make use of the free guide, with some of Sydney's best art galleries, museums and market places included in the list of attractions.
"It is important to showcase this world-class city as a destination for any kind of traveller, on any kind of budget," Mr. Walton said.
"The Sydney Free Attractions Guide showcases many of the things this great city is all about and therefore meets this growing need."
Car hire and Sydney tourism enthusiasts can easily find these travel resources and the Sydney Free Attractions Guide on the Discovery Car Hire website.
Specialising in Car Hire Sydney, Discovery Car Hire are the online specialists when it comes to comparing Australia's top car rental companies.