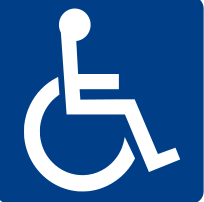 "Matching the Accessible Home Buyer and Seller Is our Specialty"
Virginia Beach, VA (PRWEB) August 06, 2012
Creed Realty recently announced the formation of its Accessible Real Estate Division designed to connect Special Needs, Veterans, and Handicapped consumers with "adapted" homes and condos.
It is clear that Federal law requires access for people with mobility impairments only to all new multifamily residences and to a small percentage (5 percent) of single-family units constructed with public funds. The Americans with Disabilities Act (ADA) generally does not apply to private homes and condos.
Accessible homes and condos come with many definitions and broad categories from wheel chairs, grab bars, curbless showers, elevators to cabinets. It is important the Virginia Beach and Hampton Roads Accessible home/condo buyer or seller have representation that understands the myriad of "special needs" and "disabilities" associated with Accessible Housing. Matching the Accessible Housing buyer with the right home seller requires unique expertise only found with education, outreach, and commitment to this market. In Virginia Beach and Hampton Roads "Accessible" listed real estate defined homes and condos total over 1000 at any given time. With aging baby boomers and war veterans the need will only go up for accessible homes and condos.
"Truly" handicapped Accessible Homes are difficult to find. The Creed Realty Accessible Real Estate Division will provide the necessary expertise to Buyers, Sellers and Investors to achieve these goals. Whether moving to a larger home, developing new construction plans, downsizing, or modifying a home to meet special needs Creed Realty's Accessible Real Estate Division can provide the expertise to solve unique problems.
Creed Realty Virginia Beach's Accessible Real Estate Division has also expanded and joined the non-profit 501(c)(3) "Ramps Across America" providing wheel chair ramps for mobility challenged citizens and veterans in financial need. Further outreach efforts continue to expand with blindness and hearing loss programs.
The Creed Realty Accessible Real Estate Division will be led by Associate Broker Buck Heffernan, a REALTOR® with a calling and passion for the disabled of all ages. Heffernan, a retired 34 year U.S. Navy veteran has over 8 years of Real Estate experience under his belt and is uniquely qualified for this position. He has been recognized by the National Association of Realtors as a Certified Residential Specialist (CRS), a designation awarded through performance and experience and held by less than 4% of Realtors nationally. He is also a Seniors Real Estate Specialist (SRES) and a Certified Aging in Place Specialist (CAPS), a designation awarded through the National Association of Home Builders and held by less than 1% of Realtors.
A recognized expert he serves on the Mayor's Commission on Aging in the city of Virginia Beach.