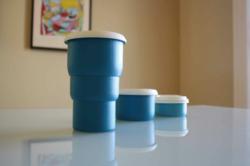 Zip Cup reinvents the way we drink coffee on the go. Paper cups are wasteful, travel mugs are too bulky, and existing collapsible cups can't handle a full cup of hot coffee.
San Francisco, CA (PRWEB) August 07, 2012
58 billion paper cups are thrown away every year in the US. When Karla Zens, a San Francisco-based sustainability pro discovered that statistic, she was inspired to change her habits and carry a reusable cup to her local coffee shop. But she found existing travel mugs too bulky to carry around all day. "I was already carrying a reusable shopping bag and a water bottle, along with my laptop. Doing the eco-friendly thing was starting to take a toll on my back."
Zens had memories of collapsible cups from childhood camping trips. But she found these cups to be much smaller than a standard coffee cup. Besides that, they relied on friction to stay extended and were unsafe for hot liquids.
Working with mechanical engineers and product designers, Zens took the collapsible cup concept and added a twist-to-lock mechanism and sealing technology used on space shuttles and submarines. She also added insulating properties so Zip Cup could handle piping hot beverages.
The result is a collapsible cup that is re-engineered for daily convenience, and perfect for camping or a day at the beach. Zens added that Zip Cup isn't just for coffee and is perfect for travel "I hate paying $5 for bottled water in airports, but carry-on space is precious. With Zip Cup, I can clear security, then fill Zip Cup with water at a fountain. Zip Cup saves money and valuable purse space."
Recognizing the importance of consumer adoption, Zens ensured that Zip Cup is dishwasher safe, free from harmful additives like BPA, and recyclable at the end of its lifespan. "It's important to me that Zip Cup is as safe as possible for people and the planet. I believe people want to do the right thing and reduce waste, but they're looking for convenient options. Zip Cup provides that option for people who like to drink coffee on the go"
Zip Cup is available for pre-order through an Indiegogo campaign: http://www.indiegogo.com/zipcup. Zens turned to crowdfunding to build awareness and a brand for Zip Cup, and to help offset the expensive up-front costs of factory tooling, adding "Most cups are formed from a single part plus a lid, but Zip Cup has three parts with detailed features for locking and sealing along with a lid." Zens hopes to raise $20,000 towards manufacturing by September 16.