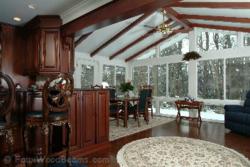 Our custom beams provide the ultimate design flexibility
Deer Park, NY (PRWEB) August 16, 2012
FauxWoodBeams.com expands its line of custom faux wood beam options with Resawn and Heavy Sandblasted styles. Both designs have so many color and dimension choices, it gives architects, designers and home owners nearly limitless choices.
"Our custom lines of faux beams always go over really well. Resawn and Heavy Sandblasted provide new texture options and with four colors plus unfinished – it gives home owners a huge variety of choices," said Steve Barron, president of FauxWoodBeams.com.
Both Heavy Sandblasted and Resawn can be used indoors and out, and because they're manufactured wood, neither version can rot or warp in extreme weather. Termites and other pests have no interest in faux beams. Because they also don't have to be resealed, they're the ultimate low maintenance addition to any remodeling project.
A Variety of Options Means Custom Results
Each beam is made from a mold created from genuine wood so they have the texture and appearance of real wood with grooves, knots and a pronounced grain pattern. It's the perfect way to get the look of real wood without high cost or hurting the environment.
Both Resawn and Heavy Sandblasted Faux Beams can be ordered with three sides, which is convenient for running wires, lighting, etc. through the beam, or four sides. End caps are another option if desired. Lengths can be 16 or 20 feet. The width and height can be as little as 4 inches or as wide as a foot, with every size in between in half-inch increments.
Even better, both designs come in four colors, plus unfinished for complete flexibility. Light Oak is a pale wood shade. Java is the darkest, evoking rich tones like dark teak. Cinnamon has a warm reddish hue. Walnut is a classic and versatile medium shade.
Resawn beams get their texture from the cutting technique used on real wood, which then is turned into a mold. Heavy sandblasted is exactly what it sounds like, creating a great texture for rustic designs.
"No one wants a cookie-cutter home. Not only do faux wood beams add a distinctive element but the countless combinations that can be made with Custom Resawn and Custom Heavy Sandblasted are sure to meet virtually any design need," said Barron.
FauxWoodBeams.com leads the field of polyurethane wood beam products, ceiling panels and architectural items. Its products have been regularly featured on television shows such as "Brothers on Call," "Celebrity Apprentice," and numerous appearances on "Extreme Makeover: Home Edition." FauxWoodBeams.com is a subsidiary of Barron Designs, Inc., a family-owned home improvement business operating since 1972. For more information, visit FauxWoodBeams.com