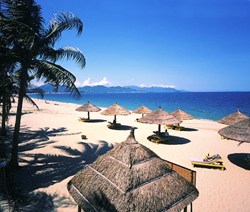 Just spend from $43 to $99, tourists can get their fulfillment with the island and snorkeling tour in a day
(PRWEB) August 06, 2012
To approach customers worldwide, Smile Travel Vietnam launches new strategies with special offers. Tours in Nha Trang are discounted up to 50 % for various packages. Indeed, Nha Trang is named as the Travel Paradise in Vietnam. Therefore, the number of tourists coming here is considerably rising. Nha Trang is really worth visiting due to its great features.
Nha Trang is one of the most important tourist hubs in Vietnam, thanks to its beautiful beaches with fine and clean sand and the clear ocean water with mild temperatures around the year.
In recent years, the city has welcomed many five-star sea cruises. In addition to sail boat racing, Nha Trang provides a rich variety of tourist activities for visitors such as island hopping, scuba diving, water sports and other sporting activities.
The local cuisine is most famous for fresh seafood and barbecued pork rolled in rice paper. The area's Bird's nest soup is deemed one of the best in Vietnam. Bird's nests are collected in the wild, on bird farms on the islands off the coast and even in some houses in the inner city. Besides, travelers can enjoy fresh sea-foods along the coastline, which has long been well-known all over the country. There are a variety of sea-foods such as shrimp, crab, fish, octopus, shell, oyster, lobster, and holothurians…from the sea and from the coral reef along the Central coast. Travelers also can take the boat to fishing villages in Nha Trang Bay and enjoy great sea-foods there.
It is sure that tourists will have an unforgettable vacation if booking tours in Nha Trang. Just spend from $43 to $99, tourists can get their fulfillment with the island and snorkeling tour in a day. Besides, many other surprisingly cheap tours in Nha Trang are available. Tourists can get access to the website of Smile Travel Vietnam to search more information on tour packages.