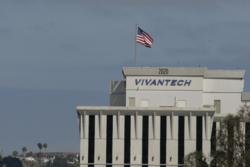 San Diego, CA (PRWEB) August 06, 2012
VivánTech (http://www.vivantech.com), a premier Kuali Commercial Affiliate, today announced the launch of its fully redesigned website. The new website provides a wealth of information about VivánTech's services, from project management to mobile development, along with details describing the comprehensive Kuali services available. There are also examples of how VivánTech has helped customers implement and customize Kuali applications with the flexibility to accommodate institutional structures and needs in a cost effective manner. The abundance of testimonials and case studies make it clear that VivánTech has the experience and reputation to deliver outstanding results, while exemplifying how VivánTech can be a university's most valuable partner in the Kuali community.
VivánTech also provides a blog for updates on the latest industry happenings and on the future of VivánTech and Kuali in higher education. The news page is a great vehicle for learning about new VivánTech offerings in the Kuali industry.
For additional information about VivánTech and its services, please visit http://www.vivantech.com or call Victoria Albright at 619.298.4824, extension 24. Liking VivánTech on Facebook and following them on Twitter are great tools to stay current on the latest news and updates.
About Kuali
The Kuali Foundation is a non-profit organization that coordinates the efforts of colleges and universities to develop and sustain administrative software to meet the needs of all sizes of higher education institutions, from small colleges to large research universities. The Kuali Foundation began in 2004 as a cooperative effort among partners and a grant from the Andrew W. Mellon Foundation to develop an open-source financial system. Success with the Kuali Financial System led to additional pooled investment projects, including Kuali Coeus for Research Administration, Kuali Student, Kuali Rice, Kuali Open Library Environment, Kuali People Management for the Enterprise, Kuali Mobility Enterprise and Kuali Ready, with coordination by the independent, not-for-profit Kuali Foundation, Inc. The software developed by Kuali projects is available, without fee, for anyone to use or modify under the Educational Community License. http://www.kuali.org.
About VivánTech
VivánTech is a premier developer of enterprise grade, open-source administrative software and an active member of the Kuali community, having worked on Kuali Financial System (KFS) implementations and other Kuali projects since 2007. The company is also the first Kuali Commercial Affiliate to implement a Kuali Mobility app, the only company to provide complimentary KFS, Kuali Student (KS), and Kuali Coeus (KC) sandboxes, and the only commercial partner involved in the Kuali People Management for the Enterprise (KPME) project. VivánTech also offers expertise in technology consulting, quality assurance, training, and project management. Known for excellence and innovation, VivánTech's solutions are used in higher education, financial institutions, large software companies, and multi-billion dollar non-profit organizations. VivánTech is privately held and headquartered in San Diego, CA. http://www.vivantech.com.
# # #
All trademarks in this release are the property of their respective owners.