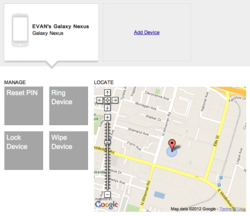 The fundamental question IT professionals need to ask is how much security do users actually want on personal devices?
London, UK (PRWEB UK) 8 August 2012
The rapid proliferation of consumer mobile devices is changing the traditional IT environment in enterprises. This can be a blessing and a challenge to IT managers and Google recognize this by making mobile more manageable with comprehensive mobile device management.
Tools to manage mobile devices across all platforms for Google Apps was launched back in 2011. Since then Google has released several new features to ensure the continuity of the BYOD trend, which as Gartner reveals has already been adopted to an extent by 90% of enterprises.
Some of Google's newest features are focused on helping administrators enforce tighter security using mobile settings in the Apps control panel to keep company data safe. As mentioned in their Google Apps blog, Google now offers administrators "more ways to promote strong passwords on users' phones and tablets and allow policies that enforce data encryption". These features also allow administrators to set policies that allow or block the use of the phone's camera on Android 4.0+ devices and policies that comply with the organizations email retention policies.
Google further announced changes to the Google Apps Device Policy app, which currently provides administrators with the ability to remotely erase data from lost of stolen devices. A major change to the app is extending this capability so that IT admins can grant end users the ability to remotely delete data from their device as soon as they notice it's missing.
This self-service approach has several benefits: sharing responsibility of security, corporate data protection and compliance optimizes help desk time. Allowing end users access to wiping a device means they can also choose to wipe their personal data, which would protect the users information from prying eyes also. If the user decides to selectively wipe the device then an enterprise can still rest assured that company data is safe.
These updates and features come just weeks after Chae-Gi Lee, research director at Gartner says that, "Enterprises should recognize this [healthy growth in BYOD over the next 5 years] and look to 'mobile enable' their IT infrastructure for employees to meet the growing demand for mobile device use in the enterprise IT environment."
The fundamental question IT professionals need to ask is how much security do users actually want on personal devices? According to research by Carnegie Mellon University, users want a 'Goldilocks' answer for device security – neither too much, nor too little. What are your thoughts?
AppsCare®, Google Enterprise Premier Partner is a world leader in cloud services provisions, supporting over 2500 customers in 33 countries. AppsCare® comprise 10+ years' experience deploying technical solutions for organisations of all sizes and geographies utilising their GStall delivery methodology and AppsCare® support programmes. To subscribe to their fortnightly newsletter click here...
Follow @AppsCare | Follow @Netpremacy