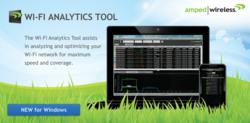 Chino Hills, CA (PRWEB) August 06, 2012
Amped Wireless, the leading manufacturer of high-power, long-range wireless communications products for the home and office, today announced a strategic partnership with MetaGeek, a Boise, Idaho based wireless visualization tool development company. This partnership enables Amped Wireless to compliment and strengthen its current software infrastructure.
The relationship offers Amped Wireless the ability to bundle a free, easy-to-use, Windows based Wi-Fi Analytics Tool that optimizes Wi-Fi networks across all Amped Wireless products. This new tool, "The Amped Wireless Wi-Fi Analytics Tool for Windows", is based on MetaGeek's popular inSSIDer that is designed to assist Wi-Fi users in optimizing their wireless network installation and performance.
"MetaGeek is known for engineering some of the industry's best Wi-Fi software," stated Jason Owen, CEO of Amped Wireless. "We welcome this partnership as it will allow our customers a comprehensive offering of our software products. Now, consumers will have more flexibility to manage and optimize Wi-Fi networks to eliminate wireless dead spots, interference and increase overall performance."
"The Amped Wireless Wi-Fi Analytics Tool for Windows provides simple, visual, easy to understand information. The starting point for troubleshooting, Wi-Fi Analytics Tool for Windows is the first line of defense. It uses information from your computer's wireless network card and visualizes all the Wi-Fi networks around you," said Ryan Woodings, Chief Geek at MetaGeek. "We are excited to partner with Amped to provide their customers with our Wi-Fi tool. Their commitment to providing a great customer experience is something we are honored to help with."
The Amped Wireless Wi-Fi Analytics Tool for Windows provides advanced analysis of the Wi-Fi signal strength and interference for nearby Wi-Fi networks. The Wi-Fi Analytics Tool assists users in finding dead spots as well as the optimal location to install Amped Wireless routers, repeaters and adapters.
This new tool features:

Wi-Fi Scanner: Scans and displays real-time information for nearby Wi-Fi networks including, hardware manufacturer, channel number, security type, signal strength (percentages and decibels) and more.
Channel Graph: Visually displays and graphs nearby Wi-Fi networks based on their channel and signal strength in real-time.
Time Graph: Visually displays and graphs the signal strength of all nearby Wi-Fi networks over time.
Advanced Sorting: Filter results by Mac Address, SSID, Channel, RSSI and Time Last Seen.
For more information on The Amped Wireless Wi-Fi Analytics Tool, please visit: http://www.ampedwireless.com/wifianalytics
About Amped Wireless
Amped Wireless' mission is to develop the highest quality, long range wireless products through experience, passion, innovation and advanced technology that exceed customers' needs and expectations. Amped Wireless specializes in providing long range wireless consumer and business communications products for home and office. For more information on Amped Wireless please visit the company's website at http://www.ampedwireless.com.
About MetaGeek
MetaGeek makes easy-to-use visualization tools for wireless spectrum and packet analysis. With Wi-Spy spectrum analyzers and Chanalyzer visualization software, MetaGeek enables professionals to make wireless work the way it's supposed to. MetaGeek also launched their latest troubleshooting tool - Eye P.A. - the first step to understanding your Wi-Fi network. Eye P.A. transforms 802.11 packet capture files into color-coded multi-layered pie charts, allowing you to see trends and issues for quick network troubleshooting. For more information about MetaGeek and wireless troubleshooting visit: http://www.metageek.com.