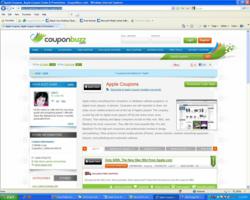 The 64G iPod Touch featured in today's coupon is particularly popular due to its impressive memory capacity.
Houston, TX (PRWEB) August 06, 2012
Today CouponBuzz.com featured a new Apple coupon for $60 dollars off retail pricing on a refurbished 64G black iPod Touch. The coupon is located on the recently launched web page at CouponBuzz.com dedicated to Apple coupon codes and special offers. The coupons featured in this section are hand-sorted by the Buzz Guide assigned as a caretaker for the Apple coupon web page, tasked with finding the best deals available and ranking them according to their desirability.
"The iPod Touch is one of Apple's best-selling products," said Justin Bowen, one of the senior directors at CouponBuzz.com. "Every time we feature a coupon for the iPod Touch, like the one you can find here, we get a great response from our site visitors. The 64G iPod Touch featured in today's coupon is particularly popular due to its impressive memory capacity-rivaling the size of what a small laptop hard drive would have been only 6 or 7 years ago."
First released in September 2010, simultaneous with the iPhone, the touch screen technology of both devices, including incredibly responsive and accurate haptic feedback, rapidly dominated the mobile media market. Revolutionizing consumer expectations of what a handheld device should be capable of, the iPod Touch is far more than just a music player. The wide host of apps available for use on the iPod Touch are an essential element to its overwhelming popularity. From a mobile gaming platform, to a GPS system, to a fitness tracker, the iPod Touch seems to be capable of doing everything short of making sandwiches.
In addition to its 64G solid state hard drive, the iPod Touch features remarkable 960 by 640 resolution Retina Display. HD video recording and editing capacity, and 7 hours of playback per battery charge are also popular features. The A4 processor makes gaming even more sensational, and the Game Center connects users effortlessly to all their favorite games. Full specifications on the 64G iPod Touch and the $60 dollar discount for the refurbished version can be accessed via the special link in CouponBuzz.com's dedicated Apple coupon section, located here http://couponbuzz.com/apple-coupons.html.