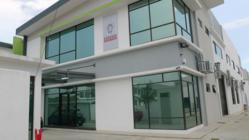 Johor Bahru, Malaysia (PRWEB UK) 8 August 2012
Bureau Veritas Consumer Products Services (BVCPS) is pleased to announce the grand opening of its international laboratory in Malaysia in August, 2012. The new lab is the first of its kind in Johor Bahru, and offers a suite of comprehensive testing services for hard goods and toy products for the manufacturers and exporters in the location and surrounding areas.
Located in Johor Bahru, one of the major manufacturing hubs and export centers for hardline products including furniture, tableware, cookware and decorative items in Malaysia, the new laboratory aims to assist manufacturers and companies in meeting the regulatory compliance for safety and quality. The new facility occupies 10,000 square feet and is equipped with the most up-to-date equipment to provide a full range of hardline and toy product testing services which are aligned to global standards such as ISTA, CPSC, EU, EN and ASTM , etc. These services include: Transit Packaging Test; Physical and Performance Test: Corrosion Resistance Test, Small Part, Stability Test, Temperature and Humidity Test, etc.; Technical Support Services including tailor-made seminars and training
According to Claudia Chan, South East Asian Regional Director, "Malaysia is one of the world's top ranked furniture exporting country in particular of wooden furniture and many wood-based products. The setup of this full scale specialized hardline testing laboratory is to support the increasing testing needs of over 600 furniture manufacturers, importers and exporters in Johor Bahru and nearby areas for furniture markets including Muar and Kular Lumpur." Claudia added: "Strategically located in Malaysia, the new laboratory will enable us to serve the growing testing demands in Malaysia, Singapore, Thailand and the Philippines for hard goods and toy products as well. We are confident that the new laboratory will add value to our clients in terms of saving cost and lead time in local testing, achieving faster time to market with quality products."
For corporate enquiries, please contact:
Bureau Veritas Consumer Products Services
Ms. Flora Wong
Email: marketingmail(at)hk.bureauveritas(dot)com
For general and technical enquiries, please contact:
Bureau Veritas Consumer Products Services Sdn. Bhd.
No.7, Jalan Laman Setia 7/3
Taman Laman Setia
81550 Johor Bahru, Malaysia
About Bureau Veritas
Bureau Veritas is a world leader in conformity assessment and certification services.
Founded in 1828, the group has more than 54,000 employees in more than 940 offices and
340 laboratories located in 140 countries. Bureau Veritas helps its clients to improve their
Performances by offering innovative services and solutions in order to ensure that their
products, infrastructure and processes meet standards and regulations in terms of quality,
health and safety, environment protection and social responsibility.
Bureau Veritas' Consumer Products Services division is a leading global quality
assurance provider for the global consumer product and retail markets. It offers an array of
Specialized services including testing, inspections, audits and engineering services for a wide
range of consumer products including hard goods, toys and juvenile products, soft goods,
premiums, electrical and electronic products, food products, health, beauty and household products.
Bureau Veritas is listed on the Euronext Paris stock exchange (Compartment A, code ISIN FR 006174348, stock symbol: BVI).
For company details, please visit: http://www.bureauveritas.com
Bureau Veritas Consumer Products Services Website:
http://www.bureauveritas.com/cps (Global) / http://www.bureauveritas.cn/cps (China)
Ms. Suzen Chong
Email: suzen.chong(at)sg.bureauveritas(dot)com
Tel: +65 66710186 / 92993247