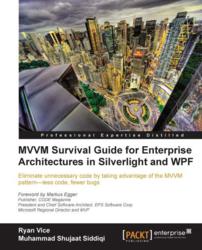 Eliminate unnecessary code by taking advantage of MVVM pattern
(PRWEB) August 06, 2012
Packt is pleased to announce the publication of MVVM Survival Guide for Enterprise Architectures in Silverlight and WPF a new book and eBook for developers, to choose the best MVVM(Model View View Mode) approach for thier projects and solve common MVVM problems both with and without frameworks depending on thier preference .
About the authors:
Ryan Vice: With over 10 years of experience, Ryan has worked on network security systems, high volume e-commerce systems, title management systems, and a high volume financial trading applications. He was given Microsoft MVP in 2010 and is working with Microsoft Enterprise solutions.
Muhammad Shujaat Siddiqi : Muhammad has an expericence of more then 7 years of serving in the Enterprise Software Industry. For his contributuion and service to WPF, Mahummad has been awarded as MCC in 2011 by Microsoft
Silverlight is a powerful development tool for creating engaging, interactive user experiences for Web and mobile applications. Windows Presentation Foundation (WPF) is a next-generation presentation system for building Windows client applications with visually stunning user experiences.
MVVM Survival Guide for Enterprise Architectures in Silverlight and WPF book will help developers discover the built-in support for MVVM in Entity Framework and WCF. They will be able to work in parallel with minimal dependencies by creating blendable architectures and also eliminate unnecessary code.
This book will help professionals to extend your architecture and test it by using inversion of control frameworks. It will not only help them create unit testable user interfaces the MVVM way but also create designs that allow for them to change the user interface without any changes in code outside the view using data templates.
Packt Publishing has also released and is due to publish other Microsoft books:

Windows Presentation Foundation 4.5 Cookbook (Expected: October 2012)
(MCTS): Microsoft BizTalk Server 2010 (70-595) Certification Guide (Published)
Microsoft Windows Server AppFabric Cookbook (Published)
About Packt Enterprise:
All Microsoft books are Published by Packt Enterprise. Packt Enterprise is a publishing division of Packt Publishing designed to serve the information needs of IT Professionals in the Enterprise space. Packt Enterprise publishes on Microsoft, IBM, Oracle, Citrix, Java, Amazon, Google and SAP technologies.