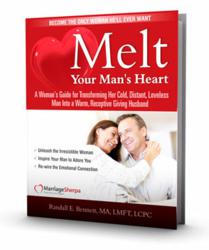 It's called neural hijacking and it literally stops love, warmth, and intimacy from being able to enter the relationship.
Miami, FL (PRWEB) August 06, 2012
Randy Bennett, MA, LMFT, LCPC has just released a new program, Melt Your Man's Heart which is focused on helping women remove the wedge of negative emotion that keeps their husbands cold and distant.
Randy explains that there are certain behaviors women do that cause their husbands to withdraw an become temporarily incapable of feeling love.
"It's called neural hijacking and it literally stops love, warmth and intimacy from being able to enter the relationship. And this automatic negative response is triggered by those little shoulder shrugs, those eye rolls...and anything else you may do that has conditioned your man to react negatively."
Randy goes on to explain his discovery of seven characteristics of a self-sabotage spiral. These are self-sabotaging thoughts and behaviors that build upon each other and reek havoc on relationships. In most cases these behaviors are done with the best of intentions, but they do not get the desired result.
Many women think that they will be able to improve a relationship that has soured by being the perfect homemaker and communicating in a passive way with their husbands. According to ConquerHisHeart.com's Sean Roman, this rarely works.
"Often, a few years into a relationship a woman will notice that her man is spending less and less time with her. There is also a decline in both emotional and physical intimacy. This situation is unpleasant, and most women don't know what they can do to turn things around. Even worse, many of the common strategies women employ can end up backfiring because their husbands have developed a negative conditioned response to these behaviors."
Randy's program has become quite popular and is receiving praise from other dating and relationship experts.
Sean Roman offered the following observation: "Randy Bennett's Melt Your Man's Heart program offers answers to many questions women have about improving their relationships. Randy has been counseling women for over 25 years as a practicing marriage counselor so he knows the problems facing women in relationships with emotionally distant men. He is aware that it's difficult for women to watch other men treat their wives like princesses even after decades together when your own man acts like you don't exist. Randy's program attempts to explain this phenomenon and provide his readers with an actionable plan to improve matters."
Roman has written a review of the program which is available on his website: http://www.conquerhisheart.com/
Randy's new Melt Your Man's Heart is available now at the Melt Your Man's Heart Website.