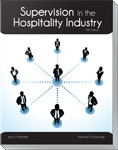 Lansing, MI (PRWEB) August 07, 2012
The new edition of Supervision in the Hospitality Industry, published by the American Hotel & Lodging Educational Institute(EI), provides a solid foundation for new and aspiring hospitality supervisors. Written by Jack D. Ninemeier, Ph.D., CHA, CFBE, CHE, and Raphael R. Kavanaugh, Ed.D., CHA, this textbook shows readers the supervisory skills they'll need to succeed in a hospitality career, from communicating effectively and managing time to training employees and motivating a team.
The fifth edition features revised procedures for managing conflict; expanded information on motivation, including a discussion of on-boarding; new information on the role of technology and social media on recruiting and reference checks; new information on the costs and benefits of training; and a discussion of the use of technology for employee scheduling, including scheduling software and company intranets.
The textbook is also available with a keycode that provides six-month access to online supervisory training resources that offer additional learning resources to reinforce textbook content.
Supervision in the Hospitality Industry, Fifth Edition is available for $78.00 for AH&LA members and $105.00 for nonmembers. With the online component, the price is $97.00 for AH&LA members and $114.00 for nonmembers. For information or to order, visit http://www.ahlei.org, or call 800-349-0299 or 517-372-8800. Outside the U.S. and Canada, call 407-999-8100. U.S. academic customers should contact Pearson Higher Education at 800-526-0485 to order this title.