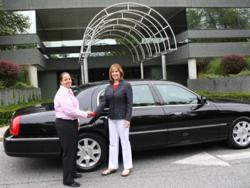 Rye Brook, N.Y. (PRWEB) August 06, 2012
Limousine Service of Westchester (LSW) is pleased to announce its new partnership with Hadassah of Westchester, providing members, employees and visitors with access to exclusive, chauffeured limousines for on-demand transportation to any location at a moment's notice. Sedans, SUVs, busses and mini coaches will also be available upon request. In return, LSW will donate a portion of its revenues to Hadassah.
Hadassah of Westchester, celebrating their 100 year anniversary, is the largest Jewish organization in America, and one of the largest women's volunteer organizations in the world. With over 330,000 active volunteers throughout the country, 7,000 located in Westchester County, Hadassah of Westchester enriches the lives of American Jewish women by focusing on issues important to them. Hadassah is a continuous advocate for health and humanitarian causes throughout the world such as leadership in stem cell research, breakthrough treatments for Amyotrophic lateral sclerosis, or ALS, while providing educational services to its members.
Limousine Service of Westchester, a supporter of Hadassah's mission, is providing discounted rates to members of the organization. Although available for use to and from Hadassah's White Plains location, Hadassah is encouraging their members to use LSW for their personal needs as well as Hadassah needs. Phyllis Hartstein, President of Hadassah of Westchester, said, "Hadassah is a women's organization interested in supporting women owned businesses." She added, "As a neighbor of LSW, we have observed first-hand their quality service and responsiveness to their customers and we are thrilled to formulate this partnership."
###
About Limousine Service of Westchester
LSW is a full-service chauffeured transportation company founded in 1978. Based in White Plains, N.Y., LSW has established itself as a world-class transportation service providing a fleet of luxury cars, sedans, SUVs, busses, and mini coaches and a global network of more than 550 affiliate providers. Led by CEO Melissa Thornton, LSW is one of the first certified minority- and woman-owned limousine services in Westchester County. The company continues to maintain an impeccable reputation with exceptional service. LSW is located at 10 New King Street, Suite 209, White Plains, N.Y. 10604. For more information or to make a reservation, LSW can be reached at 1-877-878-LIMO and emailed at reservations@lswlimo.com.
About Hadassah of Westchester
Hadassah, with more than 300,000 members, is the largest women's organization in the country. Its 7,000 members in Westchester uphold the organization's commitment to make a difference in both the U.S. and Israel. Area members take action on issues important to them as Jewish women, including member education programs such as the Hadassah Jewish Women's Film Series and Westchester Adult Jewish Education; activism through advocacy pertaining to women's health, genetic non-discrimination, support for stem cell research, and initiatives against domestic violence; and community projects such as the Read*Write*Now! tutoring program and "Gift of Reading." To learn more, visit http://www.hadassah.org/westchester.