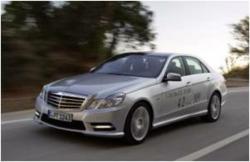 (PRWEB UK) 7 August 2012
UK deliveries of the new E 300 BlueTEC Hybrid will start in November and the order books are now open.
It's priced from £39,645.00 for the saloon and the Estate starts at £41,435.00 while company car tax rates range begin at 12 per cent.
The Mercedes E 300 BlueTEC Hybrid brings together a powerful yet highly efficient 2,143cc, four-cylinder diesel engine. Developing 204 hp and 500 Nm of torque, it is linked to a 20 kW electric motor mounted within the 7G-Tronic Plus automatic transmission powered by a 19kW Lithium-ion battery.
The result is the ability to accelerate from rest to 62 mph in 7.5-seconds (Estate: 7.8-seconds) before reaching a maximum speed of 150 mph (144 mph) when required.
When fitted with the 16-inch wheels, the E 300 BlueTEC Hybrid is capable of returning 65.7 mpg (62.8 mpg) on the combined cycle while emitting as little as 109 g/km of CO2 (116 g/km).
The Hybrid system is intricately packaged within the vehicle so as not to impact on the versatility or load capacity of the E-Class in any way.
The electric motor, for instance, is mounted within the 7G-TRONIC PLUS automatic transmission. The gearbox substitutes a torque converter for a wet clutch system, therefore allowing for the internal combustion engine to be disengaged entirely via the clutch and for electric-only drive to be maintained for short periods, boosting economy. Such is the level of integration that the addition of the electric motor adds on 65 mm to the total length of the transmission.
Standard equipment includes 17-inch alloy wheels – 16-inch wheels can be fitted as a no-cost option to achieve the lowest possible CO2 and economy figures. They come with leather upholstery, Becker Map Pilot Navigation and LED daytime running lights.
Keep up to date with business car news for breaking stories and watch the business car videos to get behind the stories