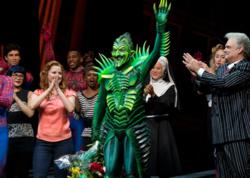 New York, NY (PRWEB) August 06, 2012
On Sunday, August 5, TheaterMania reported that Patrick Page, star of "Spider-Man: Turn Off The Dark" on Broadway, played his final performance as Norman Osborn/Green Goblin at the Foxwoods Theatre.
Page, an original cast member of the production and Tony-nominee for the role, is leaving in order to play the Comte de Guiche in the Roundabout Theater Company's upcoming production of "Cyrano de Bergerac", written by Edmond de Rostand. Performances begin on September 14 at the American Airlines Theatre.
Page's many Broadway credits include "The Grinch Who Stole Christmas", "The Lion King", "A Man for All Seasons", and "Beauty and the Beast".
For more up-to-the-minute theater news, show listings, video, features, reviews of Broadway Shows and tickets visit TheaterMania.com.
About TheaterMania.com, Inc.
TheaterMania.com is the information and ticketing source for over 5,000 shows nationwide. For over ten years, TheaterMania.com has connected the theater community to the public as the leading online resource for consumers to find shows, get tickets, and save money to theater nationwide. TheaterMania.com publishes comprehensive show listings, provides Broadway ticket discounts, editorial content, and video coverage for over 40 markets and widely distributes free email newsletters and special offers to over 675,000 registered subscribers. In addition, TheaterMania.com creates online marketing programs for performing arts organizations, and provides technology to power ticketing, fundraising, and CRM through its proprietary software, OvationTix.