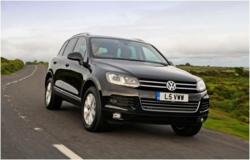 (PRWEB UK) 7 August 2012
What is it?
The Touareg is Volkswagen's biggest SUV and it was developed alongside the Porsche Cayenne. Don't expect to find Porsche levels of handling here though as the Touareg has more of a focus on comfort, refinement and ease of driving.
With prices starting from around £41,000 for this 242bhp 3.0-litre V6 TDI model it looks like good value, with a price-tag that is significantly cheaper than the equivalent Cayenne and a little bit cheaper than an Audi Q7.
What's hot

This V6 diesel engine is a great performer that boasts impeccable refinement and smooth power delivery, helped by the seamless 8-spd automatic gearbox
-It's quick too, with a hot-hatch rivaling 0-62mph time of 7.6 seconds
-On the motorway people will find there's very little wind noise and the engine stays impressively hushed
-A great stop/start system helps to boost fuel economy to 39.2mpg, while CO2 emissions are 189g/km – impressive for a quick and heavy car
-If anyone wants to go off-road, the Touareg is more than capable and there's an impressive 3500kg towing capability too
-Cabin quality is very good indeed but it is beginning to look a little dated
What's not
-Involving handling has never been a VW strong suit and the Touareg is no different. A Porsche Cayenne or BMW X5 are the enthusiast's choices
-There is no seven-seat version of this car and that's something that most of its rivals do offer
-Despite the impressive refinement and comfort, a Range Rover is better still in both of these areas
-Those looking for extreme off-road performance will have to pay extra for the Escape variant of the Touareg, which costs around £2000 extra
-Those CO2 emissions put the Touareg well outside any capital allowance tax breaks, whether for business car leasing or buying as a company car purchase
Road Test verdict
The VW Touareg 3.0 TDI V6 is a punchy and refined off-roader that comes well equipped and boasts a great value price-tag too. While it may not be as good to drive as a BMW X5 or as luxurious as a Range Rover, set up a business car comparison between the three and the Touareg is easily the most appealing proposition when viewed in terms of running costs alone. And if your business car needs to be something that can combine economy, comfort and refinement with a no-nonsense SUV for towing duties, then the VW Touareg is an excellent choice.
The low down
P11D Value £41.600
Tax band 2012/13 to 2014/15 31%, 32%, 33%
BIK tax £12,896, £13,312, £13,728
Engine 3.0-litre V6 turbodiesel
CO2 189g/km
Power/torque 242bhp/ 550Nm
0-62mph 7.6 seconds
Economy 39.2mpg
Towing capacity (braked) 3500kg