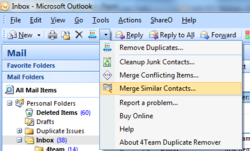 Coral Springs, FL (PRWEB) August 09, 2012
Outlook Duplicate Remover was developed as a time-saving and automated one-click solution, which would help its users get rid of all unnecessary duplicate and identical items in their Microsoft Outlook. Clicking the Duplicate Remover button in Microsoft Outlook finishes the process in a few seconds. The software is continually developed to meet its users needs, however, it still stays simple and helps saving a lot of time.
Two new unique features that none of our competitors have were presented by 4Team Corporation as options for management of Microsoft Outlook Сontacts:

Search and merging of similar contacts - detects and merges contacts in case they have the same name, were misspelled, first and last names switched, or have matching important information. As well as junk contacts, similar contacts may cause a mess in Microsoft Outlook Contacts. In just a few clicks, the tool will detect all similar contacts, put them to groups for easy review and merging. The sophisticated search algorithm ensures that all duplicates alike are detected.
Junk contacts removal - allows getting rid of useless contacts, that contain insufficient information; Junk contacts are often created automatically by synchronization software, by entering short information for later reviewing, or by mistake and usually contain very little information to be used again in the future. The new Duplicate Remover feature allows its users to clean up their Outlook Contacts folders in a few clicks by finding, correcting or deleting junk contacts in bulk and avoid the frustrating procedure of finding and fixing them manually.
Outlook Duplicate Remover with all its new features can be downloaded or purchased at: http://www.duplicate-remover.com . It also comes in a Free version which will only search for duplicates without removing them.
The customization option for Outlook Duplicate Remover to fit your enterprise needs or any other software solution for Microsoft Outlook is also available and can be ordered from here.
More than 12 years 4Team Corporation has been developing tools for Microsoft Outlook users. The experienced team of developers offers numerous solutions for data synchronization, groupware and sharing, backup, duplicate management and conversion. Personal and Corporate tools and Add-ins for Microsoft Outlook are well known and appreciated by hundreds of thousands of customers around the world.
For more information about Outlook Duplicate Remover, please visit http://www.duplicate-remover.com .
You can learn more about other 4Team Corporation solutions at http://www.4Team.biz .