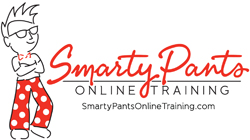 We strive to make Smarty Pants Online Training the most memorable training you will ever take.
Martinez, GA (PRWEB) August 07, 2012
Smarty Pants Online Training, an online training company located in Augusta, Ga., offers a wide selection of courses covering a range of child care related topics. The goal of the company is to provide lively and engaging courses that will both educate and entertain. The company has found that by doing so, students participate more in the courses and have more success retaining the knowledge learned in the course. Smarty Pants Online Training offers an orientation package that includes five online courses that will help any new employee receive the training needed to set them up for success .
Individuals who work or volunteer with children in the state of Georgia are considered mandated reporters for child abuse. This requirement led Smarty Pants Online Training to design its latest offering, a course designed to meet the state requirements while retaining the engaging course structure the company is known for. Smarty Pants Online Training's child care program is also approved by Bright From the Start and the Georgia Department of Early Care.
Smarty Pants Online Training builds it's courses from the ground up to cover the essentials of child care while adding in valuable tips and information that the company feels will come in handy as its students enter the workplace. To keep students' attention throughout the course, Smarty Pants Online Training has worked to create a "Training Experience".
This cutting edge approach to online training engages all of the student's senses with full audio and video, while immersing them in the knowledge they need to succeed. Anyone looking to work with children in the state of Georgia is encouraged to visit Smarty Pants' website to learn more about the advantages its child care online training courses have to offer.
About the company
Ever taken an online training course? They have. And they're not awesome. They're anti-awesome. Where information is presented poorly, information is not presented at all. Smarty Pants is a diverse team of writers and developers with over 20 years of experience, tackling all angles of the training conundrum. With the LOOK, LISTEN and LEARN method, Smarty Pants keeps students engaged and coming back for more. For more information visit their website at http://www.smartypantsonlinetraining.com.