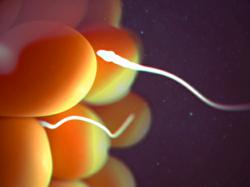 Our team continues to push the creative boundaries of medical visualization. These honors are evidence we're on the right track, furthering our mission of excellence in global health literacy. - Ron Collins, CEO
Atlanta, GA (PRWEB) August 07, 2012
For the third time in four years, a juried panel of notable experts selected an animation by medical animation and interactive media developer Nucleus Medical Media to appear in the SIGGRAPH Computer Animation Festival. The animation, entitled "Fertilization", will share the stage at the 2012 SIGGRAPH convention this week alongside a handful of other nominees from around the world. Past nominees have included household names like Disney, Pixar, HBO, Discovery and National Geographic.
On the heels of this most recent nomination, the "Fertilization" animation also garnered the Member's Choice Award in Animation/New Media at the recent Association of Medical Illustrators (AMI) meeting where awards were given to recognize excellence in creative medical visualization in a variety of media. The Georgia-based company also received the Award of Excellence in Animation for "STAR ankle", and the Award of Excellence in New Media for its "iStent" iPad app.
"Fertilization" is part of a series of pregnancy animations demonstrating conception to birth, created as a web-based health literacy aid for patients and consumers.
The animation begins with a unique view inside the birth canal, showing the release of hundreds of millions of sperm. "The process of fertilization is a dramatic narrative full of complex actions and environments," said Thomas Brown, Chief Creative Officer. "It presented the perfect opportunity to take the viewer, firsthand, on this journey along with 300 million sperm. The result is an immersive and enriching educational experience." The animation continues with a dramatic sequence of the sperm traversing the cervical opening, continuing their journey through the uterus where the surviving sperm meet the egg in the fallopian tube.
Scriptwriting for such a detailed, complex process was not without its challenges. "Some of the details regarding fertilization are unknown and some experts simply don't agree on certain points. Our challenge was to determine how to accurately tell the story and demonstrate details that are difficult to visualize", said Chief Medical Writer, Mary Beth Clough. Ms. Clough added, "I think we succeeded in conveying both the beauty and miraculous nature of the event."
"We couldn't be more pleased and honored by these recent events. Our team continues to push the creative boundaries of medical visualization. These honors are evidence we're on the right track, furthering our mission of excellence in global health literacy", stated Nucleus CEO and Co-founder, Ron Collins.
###
For further comment, contact Ronald Collins, CEO and Co-founder of Nucleus Medical Media, at rcollins(at)nucleusinc(dot)com or (770) 805-0460
About Nucleus Medical Media
Founded in 1997, Nucleus Medical Media, Inc. is an award-winning creator of medical illustrations, medical animations, and interactive multimedia for the publishing, legal, healthcare, entertainment, pharmaceutical, medical device, and academic markets. Nucleus's clients and partners include WebMD, McGraw-Hill, Dr. Oz, EBSCO Publishing, and thousands of other businesses in new and traditional media. Nucleus employs the world's largest team of graduate-degreed medical illustrators, and has a Medical Review Board with more than 75 physicians and nurses. For more information, visit http://www.nucleusinc.com/aboutus.php
About SIGGRAPH
The Computer Animation Festival is recognized by the Academy of Motion Picture Arts and Sciences as a qualifying festival. Since 1999, several works originally presented in the Computer Animation Festival have been nominated for or have received a "Best Animated Short" Academy Award. This year's selections will be featured during the Computer Animation Festival through a series of daily Festival Screenings and the iconic Electronic Theater allowing attendees to get a glimpse behind the making of computer generated effects, visualizations, and animations.