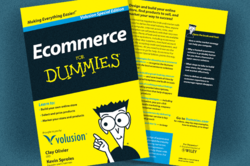 Austin, TX (PRWEB) August 06, 2012
Volusion, the leading provider of shopping cart software and services for online merchants, today announced the release of its exclusive book, Ecommerce for Dummies: Volusion Special Edition. This 68-page guide walks even the most non-technical entrepreneur through each step of building and growing an online store – from finding and choosing products to web design and online marketing. Volusion has included expert advice on how to perform the most common ecommerce tasks faster, better and less expensive than ever before.
Information incorporated in the book includes:
Chapter 1: Selling Online: Choosing What to Sell and for How Much
Learn how to best decide what products to sell and key pricing strategies
Chapter 2: Selecting a Domain Name for Your Online Store
Get the rundown on how to register the best web address for a new site
Chapter 3: Choosing a Solution/Platform
Hosted, licensed, open source, oh my! See the pros and cons to find the perfect fit.
Chapter 4: Designing Your Store
Merchants receive a crash course on web design and branding
Chapter 5: Crafting Product Listings That Sell
See how to effectively add products that sell themselves to online shoppers
Chapter 6: Shipping, Payments, Security and Returns
Take a dive into the nuts and bolts of ecommerce operations
Chapter 7: Marketing Your Store and Products
From SEO to PPC and more, merchants learn how to share their store with millions
Chapter 8: Focusing on Customer Service
Take an online presence to the next level with these tips to stellar service
Finally, the book concludes with 10 major ecommerce tips to keep online business owners headed in the right direction, all while avoiding major mistakes that could hold them back. This go-to guide will be the manual for any new entrepreneur hoping to start their own business online.
Availability
Volusion is currently giving away a limited quantity of books to new merchants who purchase a store plan. If you are interested in reading or sharing Ecommerce for Dummies: Volusion Special Edition, visit the Volusion blog for the big announcement where you can download your own copy.
About Volusion
Volusion ecommerce software gives you everything you need to open a successful online store. Whether you're an ecommerce novice or seasoned online seller, you will receive the ultimate set of business tools, including your own website, reliable hosting, effective marketing tools, and much, much more. Over 40,000 customers such as Deloitte, Nalgene, US Open, and 3M trust Volusion to power their online business, leveraging a full suite of customer support offerings, including free 24x7 assistance via phone, email and live chat. For more information about Volusion, please visit http://www.volusion.com.