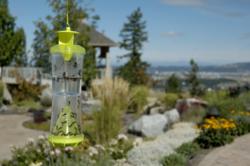 Generally we think of late August and early September as the key problem time when large nests are found, but with the hot weather the problem has escalated and needs to be addressed now, explains Rod Schneidmiller
Spokane, WA (PRWEB) August 07, 2012
The unusually hot and dry weather throughout the nation is creating a bumper crop of stinging wasps, hornets and yellowjackets. These aggressive insects are busy building colonies, searching for sugary sodas and bombarding backyard barbecues.
Experts say now is the time to capture the workers before their numbers explode and they become more than just a nuisance.
"Generally we think of late August and early September as the key problem time when large nests are found, but with the hot weather the problem has escalated and needs to be addressed now," explains Rod Schneidmiller, president of Sterling International Inc., the pioneers in green pest control.
This accelerated timeline presents a serious danger for people doing everyday activities such as barbecuing, gardening and mowing their lawns, and for children playing outside. These pests inflict a painful sting without being provoked. And for some people, multiple stings can be fatal.
"Wasps, hornets and yellowjackets found throughout North America are particularly aggressive this time of year," says Dr. Qing-He Zhang, lead scientist and director of research at Sterling International Inc., developers of RESCUE! ® products. "When the weather is hot and dry, the workers are desperate for protein and sweet liquids to keep the colony alive, and will attack you if you're in their way."
Yellowjacket nests are the most dangerous because their entrance is often hidden underground, and because of their sheer size. A yellowjacket colony started by just one queen can grow to include anywhere from 500 to 5,000 workers in late summer to early fall.
Fortunately, the RESCUE!® W•H•Y® Trap for Wasps, Hornets & Yellowjackets lures these stinging pests to their doom.
It is the first and only trap that captures multiple species of wasps and hornets including Paper Wasps, Bald-faced Hornets and European Hornets, as well as twelve species of yellowjackets.
"The specially formulated attractant only lures wasps, hornets and yellowjackets and will not lure pollinators like beneficial honeybees," Zhang assures.
The trap "delivers a one-two punch", explains Schneidmiller. "Its unique double-chamber design works with three attractants that lure and trap the queens and workers inside, where they either drown or dehydrate."
The W•H•Y® Trap should be placed a minimum of 20 feet from outdoor activity areas like patios or decks to lure the insects away, rather than directly over the picnic table or by the front door. It should also be placed at least 20 feet from a known nest location. For maximum effectiveness, Schneidmiller suggests placing multiple traps around the perimeter of a yard or area where insects are entering.
To keep ahead of the problem, experts recommend keeping the trap baited throughout summer and fall to trap workers when they're busy foraging for food.
Schneidmiller says the trap lasts for multiple seasons without daily maintenance, comes with a two-week attractant kit, and can be re-baited with W•H•Y® attractant refills.
Established in 1982, Sterling International, Inc. offers RESCUE!® traps and attractants for stink bugs, flies, Japanese beetles, Oriental beetles and more. Look for these products and the RESCUE!® W•H•Y® Trap at home improvement centers, hardware stores and lawn & garden retailers throughout the U.S.
For more information and great tips, visit http://www.rescue.com or follow RESCUE! ® on Facebook. Visit the site for a list of retailers near you.