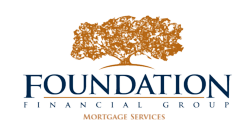 Our people are our greatest asset, and our making the Jacksonville Business Journal's top ten list reflects the hard work our employees put forth for Foundation Financial and our valued customers daily
Jacksonville, Florida (PRWEB) August 06, 2012
Foundation Financial Group ranked in the top ten of mortgage lenders on The List 2012 as reported by the Jacksonville Business Journal in its July 27th issue.
As part of its annual list of lenders ranked by volume of mortgages by area offices, the Business Journal announced that Foundation Financial Group solidified ninth position, advancing two places from their 2011 ranking.
"Our people are our greatest asset, and our making the Jacksonville Business Journal's top ten list reflects the hard work our employees put forth for Foundation Financial and our valued customers daily," said CEO Mark W. Boyer. "Another reason FFG is breaking records and growing so rapidly is our ability to adjust quickly during shifts in market conditions, our blue-collar work ethic and our unique pay-for-performance and pay-for-responsibility business model."
Foundation Financial Group reviews its policies and procedures on a quarterly basis to improve systems, increase efficiency, and ensure the utmost compliance.
"Providing our client base with excellent customer service and unparalleled turnaround times is the staple of our business model," says Boyer. "By continuing to do business the right way, I know we will continue to experience growth and success."
About Foundation Financial Group
Foundation Financial Group is a multibillion dollar financial services corporation. FFG offers its customers Best in Class service through its Insurance, Retirement, Mortgage, and Tax Services. Named one of the fastest growing financial companies in the country by INC magazine, FFG has continued to grow its nationwide presence with over 100,000 new customers per year in 38 states. In addition to the value that Foundation Financial provides every customer, it is also dedicated to its communities and the people who live in them. Through a vast array of philanthropic endeavors the company not only provides significant monetary donations but also fosters a workforce environment that encourages all team members to personally make a difference. Foundation Financial is committed to its strong focus on customer service and community investment as it continues to grow and compete with the largest financial institutions in the world.
For additional information, interview and image requests, contact the Foundation Financial Group Public Relations team at 866-659-3200.