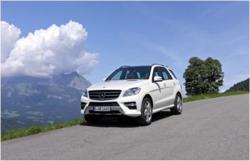 (PRWEB UK) 8 August 2012
What is it?
This is the Mercedes ML that Business Car Manager has been itching to test. Last time this car was fitted with a 3.5-litre V6 turbodiesel, which made for an impressive package. But one couldn't help but wish for lower CO2 emissions and better fuel economy. Thankfully Mercedes now sells this 2.1-litre four-cylinder engine in the ML250 models and it promises 44.8mpg and 165g/km – that's improved from 39.2mpg and 189g/km in the ML350.
What's hot:

Lower CO2 emissions mean a Benefit in Kind saving of over £2500 compared with the ML350 CDI
And with prices starting from £45,380, it's also about £3,000 less than the ML350 to buy in the first place
Despite the cheaper price-tag you still get the comfortable ride that makes long motorway journeys a breeze
Go for the optional air suspension and the ride improves even further. It genuinely feels like the flagship S-Class limousine model
The interior is well-appointed and feels very high quality too, with lashings of wood, chrome and leather throughout
It may be powered by a four-cylinder engine but it still feels quick enough. Acceleration from 0-62mph officially takes 9.0 seconds
The handling is typically Mercedes, with confident and predictable cornering that only leaves you wishing for more feel through the steering wheel
Lush interior goes with limo like ride, especially with the optional air suspension
What's not:
The punchy diesel engine isn't perfect; compared to the V6 diesel it's quite noisy and seems at odds with the otherwise luxurious package
If someone needs to tow then it's worth bearing in mind that the ML250 can only tow braked loads of 2,950kgs, compared with 3,500kgs for the ML350
Customers looking for genuine off-road ability will have to specify an optional package
While the cornering may be predictable and capable, the BMW X5 or Porsche Cayenne are still best for driving thrills
Business Car Verdict
In our business car review of the ML350 we loved it because it felt effortlessly quick, incredibly comfortable and unbelievably refined. The ML250 manages to recreate most of these traits, but unfortunately not all of them. The four-cylinder diesel engine spoils the otherwise fantastic refinement, with a harsh engine note that can still be heard in the cabin no matter how much sound insulation Mercedes has fitted.
There's really not much else to complain about though and the savings made possible by the improved CO2 emissions and lower price-tag make the ML250 a far more convincing business proposition, not just compared to the ML350 but in a business car comparison with every other car in this class.