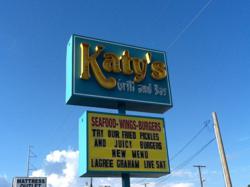 "We have always been known for great Karaoke. Now we have added a new exciting twist with the Karaoke Contest" - Jason Stevens
Wilmington, NC (PRWEB) August 07, 2012
As a popular restaurant and bar, Katy's Grill & Bar has been serving the Wilmington, NC, community for more than 28 years. In addition to its full menu, which features a vast selection of local favorites, the restaurant also hosts a number of special events and activities. Katy's Grill & Bar is pleased to add karaoke contests to its list of activities.
Beginning in August, Katy's Grill & Bar will host karaoke contests every Tuesday and Friday night. These contests give local singers - and anyone just wanting to get on stage and have some fun - an opportunity to impress their friends and family. The contests are an extension of what Encore Magazine has named as "Wilmington's Best Karaoke Nights."
The karaoke contests at Katy's Grill & Bar are presented by karaoke-master Mike Norris. Mike will be on hand to ensure that the contests move smoothly and that everyone is having a good time. After the participants have all taken their turns singing their favorite songs, guests will decide a winner, with prizes being awarded to the nightly karaoke champion. All of the nightly winners will then come back on a specific night for the Grand Karaoke Champion selection. The karaoke contests take place on Tuesdays and Fridays and begin at 10:00 p.m. Participants are encouraged to arrive early to pick their songs and to begin warming up their singing voices.
In addition to the upcoming karaoke contests, Katy's Grill & Bar is also preparing to debut a brand new menu full of fresh made dishes and cold drinks. As the restaurant's Jason Stevens says, "We're not just seafood, burgers and wings anymore. With a new menu comes a new look, while still keeping your loyal favorites." One thing that is not changing is the restaurant's weekly Sunday NFL Ticket showings. With HD screens positioned throughout the establishment, Katy's Grill & Bar makes it easy for football fans to follow all the action. In addition, Katy's has added a 112 inch HD projection screen for the "big" games and sporting events!!
About the company:
Katy's Bar & Grill has been a Wilmington Tradition Since 1983. For over 28 years it's been "Let's Go To Katy's". Fun for the family with many favorites; from Carolina Seafood, to the Best Burgers in town, to Katy's Famous Wings. They offer a family dining atmosphere, coloring books and crayons, and high chairs for the little ones. Katy's Bar & Grill features both indoor and outdoor dining. They also have flat screen TVs for the sports fanatic, the NFL Sunday Ticket, as well as pool and ping pong. They carry over 70 craft beers and some of the most popular microbrews, draft, and bottled beer favorites in addition to a full array of popular liquors and wines. Katy's Lounge is also known for Wilmington's Best Karaoke Nights (voted Best by Encore Magazine). For more information call them at 910-395-5289, or visit their website at http://www.katysgrillandbar.com.