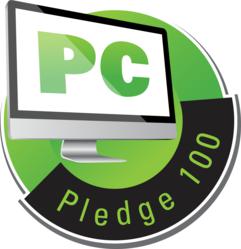 Through PC Pledge 100, the business community can help C2C participants enjoy a better education, a brighter future and a world of possibilities.
Columbus, OH (PRWEB) August 07, 2012
Redemtech, a world leader in IT Asset Disposition, today joined with Federal Communications Commission (FCC) Chairman Julius Genachowski and Connect2Compete (C2C) to launch PC Pledge 100, a nationwide campaign to close the digital divide through corporate donations of used computers. Redemtech kicked off the drive by pledging 200 computers to the League of United Latin American Citizens (LULAC) and an additional 100 computers for nonprofits focused on digital literacy.
C2C is a $4 billion public-private initiative, launched by the FCC in December 2011 to narrow the digital divide by providing free digital literacy training, discounted high-speed Internet and low-cost computers for low-income Americans. Redemtech is the exclusive provider of GoodPC refurbished computers, complete with Genuine Microsoft software, warranty, technical support and free shipping to all eligible families. Redemtech additionally provides free asset recovery and recycling at end of life to ensure responsible disposal and mitigate corporate donors from environmental liability.
Through PC Pledge 100, businesses and other organizations can donate 100 or more computers to provide much-needed technology for low-income Americans who participate in C2C. Companies interested in donating can visit Redemtech.com/PCPledge.
"While a home computer is essential to full participation in today's society, more than 60 million U.S. homes lack a PC," said Jill Vaské, Redemtech executive vice president. "Through PC Pledge 100, the business community can help low-income families enjoy a better education, a brighter future and a world of possibilities."
More than 17 million used-but-still-useful corporate PCs in the U.S. go to waste annually due to premature disposal or storage. While this equipment may be outdated by corporate standards, it remains useful to low-income families that need computers but cannot afford new technology.
"I am so pleased by Redemtech's announcement today that it is launching a PC Pledge Drive to encourage computer donations," said Genachowski. "This effort will help ensure that more Americans get affordable computers so they can get online and become full participants in our digital economy and culture."
Giving ROI: Streamlined Donation Process Helps Businesses Reap Returns on Donations
With more than a decade of experience in refurbishing and redeploying large volumes of corporate computers, Redemtech is uniquely qualified to provide the refurbishment and deployment services to support C2C. The company's Serious Good® initiative streamlines the donation process for businesses and other organizations.
Microsoft plays a key role in the program through its Microsoft Authorized Refurbisher (MAR) program that enables large refurbishers like Redemtech to supply PCs preinstalled with genuine Microsoft software at only a nominal cost to schools, nonprofit organizations and other specially approved recipients. This essential software has a retail value of approximately $500 – and adds tremendous value to the C2C computers.
"Microsoft recognizes the importance of technology access for underserved communities and supports Redemtech and Connect2Compete through our program that provides low-cost Windows and Office for disadvantaged groups. Redemtech is one of the largest members of this program and consistently develops innovative ways to reach new users of technology," said Sean Nicholson, worldwide manager for Microsoft Registered Refurbisher program.
When corporations fund the refurbishment of donated PCs, they can realize a Giving ROI of $5 - $7 for every dollar invested, as documented in the Redemtech white paper "Giving: The Most Strategic IT Asset Disposition." A leading analyst firm wrote last year that "Redemtech Re-writes the Rules on IT Equipment Donation" with Serious Good.
Redemtech Donations Support LULAC, Digital Literacy Organizations
LULAC will use the 200 computers donated by Redemtech to equip its technology training centers where C2C families receive technology training along with free broadband access.
"The computers will allow LULAC to provide additional educational services for students to do their school work, complete financial aid and college applications and will enhance an adult's ability to manage money, conduct job searches, undergo job trainings, and even take English language courses," said LULAC executive director, Brent Wilkes. "With broadband adoption at less than 50 percent among Latino, and African-American populations, support like this helps to make technology and Internet access possible to the Latino community."
In addition, Redemtech is awarding 100 refurbished PCs to groups focused on digital literacy training for underserved communities. Beginning September 1, 2012, nonprofits can apply for up to four (4) computers from this fund. Interested nonprofits can send an email to seriousgood(at)redemtech(dot)com or send a tweet to the @Redemtech handle on Twitter and include the hashtag #PCPledge100.
Affordable for All: GoodPC
By donating surplus computers, companies enable C2C to provide qualified families with refurbished computers that perform like new for $150 plus tax through Redemtech's GoodPC brand. Families with children in the National School Lunch Program are eligible for the offer.
"According to studies, about 100 million Americans have not adopted broadband at home, and 36 percent of those without broadband cite cost as the main barrier to adoption," said Ben Hecht, chairman of C2C. "Through PC Pledge 100, companies can help low-income families and children gain the equipment and essential digital literacy skills that will make them more successful and productive citizens."
Redemtech fully refurbishes the computers, including installation of fully licensed Windows 7® Professional operating system and Microsoft Office software. Minimum technical requirements for C2C donated equipment include:

Intel Core 2 Duo processor
2GB RAM and 80GB hard drive
DVD player
Wireless Internet card and Ethernet card
To ensure a like-new experience, all C2C computers are professionally packaged and include:

Monitor, new keyboard and new mouse (for desktops)
Free shipping and 90-day limited exchange warranty
Simple hardware setup instructions
Free technical support for 90 days and online support and software updates through Microsoft
About Redemtech
Redemtech engineers solutions that optimize the value of IT assets at every technology change in order to increase security, sustainability and return on assets. Its Enterprise IT Asset Disposition solution provides best practice-based essential services for Fortune 500 companies globally with e-Stewards® Certified e-waste recycling, an array of Lifecycle Services, a Serious Good® donation program and a hardware solution backed by Redemtech's status as North America's top-selling Microsoft Authorized Refurbisher. Redemtech is a wholly owned subsidiary of Micro Electronics, one of the largest privately held technology companies in the United States. For more information on Redemtech visit http://www.redemtech.com.