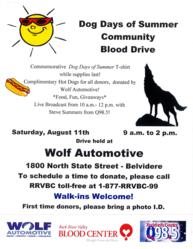 (PRWEB) August 08, 2012
Join RRVBC, Wolf Automotive and Q98.5 for a community blood drive in Belvidere, Saturday, August 11, 2012 from 9am-2pm. The event will take place at Wolf Automotive, 1800 North State Street, Belvidere. You can schedule a time by calling 877-RRVBC-99 and walk ins are welcome!
Attendees will receive commemorative, event tshirts while supplies last as well as complimentary lunch. Steve Summers and the Q98.5 Q Crew will broadcast live from 10-12.
The Rock River Valley Blood Center serves as a centralized, community blood center and is the sole provider of blood products and services to Beloit Health System, Edgerton Hospital and Health Services, FHN, Mercy Harvard Hospital, OSF Saint Anthony Medical Center, Rochelle Community Hospital, Rockford Health System, SwedishAmerican Health System and SwedishAmerican Medical Center—Belvidere. For more information or to make an appointment to donate blood, please call toll free 877-RRVBC-99.
Keep up to date by following us on Facebook and Twitter!
http://www.facebook.com/pages/Rock-River-Valley-Blood-Center/139690108057