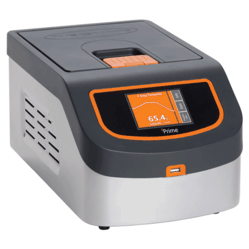 Vernon Hills, Ill. (PRWEB) August 06, 2012
A new series of Techne® Prime Thermal Cyclers from Cole-Parmer expands options for lab professionals. Also known as PCR machines or PCR thermal cyclers, these units are used to amplify DNA segments through the polymerase chain reaction process. They employ the Peltier effect, a chosen method for the most trusted thermal cyclers on the market. Their heated lids prevent condensation in samples. Additionally, their colorful touch screen operation enables quick setup and easy programming with intuitive software.
Choose from this reliable and robust selection of thermal cycling options based on specific lab needs: The 3 Prime Base Thermal Cyclers offer a small, space-saving footprint and versatile interchangeable block format. Ideal for research and educational laboratories. The 3 Prime X Thermal Cyclers include the same features as the base unit plus expanded sample capacity. Design flexibility allows these units to be upgraded to include gradient cycling capabilities.
The 3 Prime G Thermal Cyclers build on the features of the X-series with thermal gradient. Their 48-well block format offers eight columns for annealing temperature optimization and six rows for optimizing reagents. The Prime Large-Format Thermal Cyclers supply high throughput and maximum flexibility when processing a large number of samples in parallel. Instantly visualize your experiment status in real time via the graphical display. Available with thermal gradient from 30 to 80ºC.
For more information, call 800-323-4340 or visit ColeParmer.com/19385.
Cole-Parmer has been a leading global source of laboratory and industrial fluid handling products, instrumentation, equipment, and supplies since 1955. Our product lines, including popular brand names such as Masterflex®, Oakton®, and more, are sold through company-owned customer channel outlets and a strong network of international dealers. We also feature an ISO-17025-accredited metrology lab for instrument calibration and repair. Cole-Parmer responds with excellence to customer needs, and offers application expertise and technical support. For more information, contact Cole-Parmer, 625 East Bunker Court, Vernon Hills, IL 60061. In the US, call 800-323-4340. International customers, call 847-549-7600. Visit us at http://www.coleparmer.com.