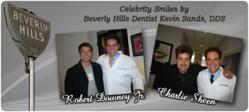 one of the most successful and sought after cosmetic dentists in the nation
Beverly Hills, CA (PRWEB) August 06, 2012
Beverly Hills Cosmetic Dentist, Dr. Kevin Sands was featured on "Keeping Up with the Kardashians" on E!, last week. The appearance centered around Khloe Kardashian's husband, Lamar Odom (professional basketball forward with the Los Angeles Clippers) and his morbid fear of dentists. During the segment, Odom, who appeared quite comfortable after being heavily sedated, underwent hours of dental procedures that culminated with a very "happy" Odom admitting that his fear was unjustified and he would now schedule regular appointments.
Dr. Kevin Sands is one of the most successful and sought after cosmetic dentists in the nation. Based in Beverly Hills, CA, Dr. Sands' patients range from the highest profile celebrities, entertainers, and foreign royalty to the rest of us who want to improve life by improving self-image and smiles.
Dr. Sands' patients come to him for a number of reasons.  Some are actors, entertainers, or models whose livelihood is based on them looking their best. Others are "every day walk of life" people who simply want the confidence and youthful look that Dr. Sands can provide.
While his name may not be familiar, chances are his face would jog your memory. Dr. Sands has been featured on such programs as TLC's Ten Years Younger, E!'s Dr. 90210 and Keeping Up with the Kardashians, and countless other shows. In fact, his clients are so elated with his work that they often feel compelled to tell the world. A few weeks ago, VH1 stated that one of Charlie Sheen's "Top 15 Most Memorable Tweets before he quit Twitter was, @charliesheen: "today spent w/ brilliant cosmetic dentist Dr Kevin Sands! the grill now perfect for Fiat, DirectTV & Anger Management! …"
But Dr. Sands is not only committed to helping celebrities look their best, he prides himself in giving all of his patients an award-winning smile and says that each patient is unique and because of that they deserve a smile that is unique to them.
"I am committed to improving the smiles for all my patients while representing their true character," said Dr. Sands, "I have and will always not only provide star treatment for my celebrity clients, but all of my patients"
Unfortunately, many patients have a fear or phobia over dental treatments, meaning that they do not receive the professional services that they need. For these patients, this Los Angeles dental specialist offers various sedation dentistry options to ensure comfortable, stress-free and pain-free treatments for each and every patient.
From within his Beverly Hills office, Dr. Sands offers various dental treatments, such as regular exam, x-ray and cleaning, restorative dentistry treatments including crowns, dental bridges, dental implants and dentures, cosmetic dentistry treatments such as teeth whitening, porcelain veneers, Lumineers and Zoom whitening, Invisalign aligners and traditional braces, and periodontal treatments.
For more information about Dr. Sands and his services, you can visit http://www.90210dentist.com
About Dr. Sands
Doctor Kevin B. Sands is known as  A-List smile makeover specialist. Based in Beverly Hills, California, Dr. Sands' patients range from the highest profile celebrities, entertainers, and foreign royalty to average people who want to change their lives by improving their smiles.  After graduating from the prestigious University of Southern California School of Dentistry, Dr. Sands spent many years learning every facet of dentistry with his main focus being cosmetic dentistry.  Since then, Dr. Sands has continued his education in the disciplines of cosmetic and laser dentistry. Sands has trained with some of the world's most prominent cosmetic dental specialists. He is rapidly becoming known as Beverly Hills' leading cosmetic dentist for people who want to look younger and feel better about their teeth.  Dr. Sands is a member of the American Academy of Cosmetic Dentistry.
This information is being distributed for the client, by Universal Media Consultants. From top magazines to leading TV stations, UMC has been very effective at distilling our client's messages in the major national media. Our aim is simple. To multiply message impact and client exposure in highly targeted markets, quickly, imaginatively, and cost-effectively. For more information visit: http://www.universal-media-consultants.com